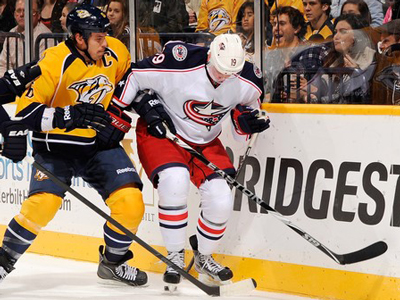 Edmonton - July 19, 2012 - Nashville Predators defenceman Shea Weber has reportedly signed a fourteen year offer sheet, with the Philadelphia Flyers. Leaving the Preds seven days to decide what to do with their star blueliner. This coming on the heels of losing defenceman Ryan Suter two weeks ago to the Minnesota Wild, via free agency.

With news breaking of the signing so late in in the evening, details remain sketchy at this time but TSN's Darren Dreger, hinted that the deal could be loaded in year one.

"Its going to be fascinating to see financial terms of Weber's offer sheet. Hearing in one calendar year, he could make $26 mil", tweeted Dreger via his twitter account.

If that is the case, which it likely is, Nashville could be in deep trouble. Everyone seems to be in agreement, that General Manager David Poile would love nothing more than to ink Weber to a lengthy deal. Unfortunately, paying a guy $26 million upfront would be rather steep for most organizations...never mind Nashville.

The easy move would be to take the picks, walk away and start a re-build but with Philadelphia adding Weber into a rather impressive lineup, those are almost guaranteed to be bottom five selections. Which would be a rather weak return, for arguably the best defenceman in the game.

While Poile's plan was to try and sign both Weber and Suter, after inking goaltender Pekka Rinne, the fact that he allowed Suter to reach free agency without getting some sort of return was a very risky move...and one that has just blown up in his face.

The next seven days will be very interesting for the Nashville Predators organization and their fans. As much as they would both love to keep their franchise player in the fold, that may no longer be a feasible option.