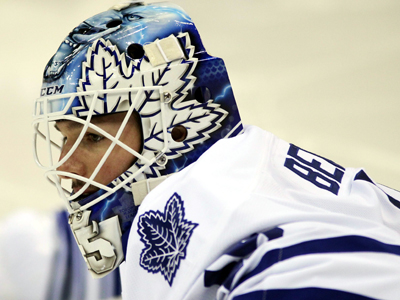 Edmonton - July 25, 2012 - It's always tough to get a read on Toronto Maple Leafs General Manager Brian Burke. Like most GM's, he will deny everything but who could really blame him? In recent weeks the Jonathan Bernier to Toronto rumours have started to make their rounds and Burke has said they are not looking to add an inexperienced netminder. For the Leafs sake, lets hope its just another smoke screen and the Los Angeles Kings goaltender is actually on Burke's radar.

Many felt Bernier would be the goalie of the future in L.A., after being selected eleventh overall in 2006. Unfortunately for him, Jonathan Quick has exceeded everyone's expectations and developed into one of the premier puck stoppers in the league. Leaving the former junior star on the outside looking in or in this case, on the bench and looking out.

With Quick having recently signed a ten year extension with the Kings, the writing is on the wall. It's time for the organization to move the soon to be twenty-four year old and allow him the opportunity to start the next chapter of his career in another NHL city.

While there is still talk that the Maple Leafs may be in on Roberto Luongo, as I have mentioned in previous columns, that would be a huge mistake for the organization moving forward. Burke may not want to publicly admit that this isn't a playoff team but they clearly are not. He will tell anyone willing to listen, that Toronto is not interested in acquiring that young netminder, when in reality, that is exactly what he is doing.

From the Maple Leafs perspective, the best part in all of this, Bernier won't fetch near the return that the Kings would have hoped for a year or two ago.While still considered a good "prospect" the shine has certainly worn off over the last couple of seasons for in the native of Laval, Quebec.

While his stats have been decent when given a chance over the last two seasons (16-14-5, 2.43 GAA, .911 SV%) they pale in comparison to Quick's numbers. While not overly shocking, when you compare them to the numbers Cory Schneider has put up in a similar situation playing behind Luongo, it's not even close. Which will surely bring down the asking price for the former Team Canada starter.

As far as opportunities go, there is probably no better situation than Toronto for a goaltender looking to make his mark as a starter. In Bernier, you have a talented guy that must be champing at the bit to be given a legitimate shot a regular duty. That shot never came in Los Angeles but James Reimer and Ben Scrivens are not Jonathan Quick. With the upcoming season being the last year on his current deal, it becomes even more important.

It is tough to say what type of return General Manger Dean Lombardi is truly expecting in a deal for Bernier but at some point, he has to give in. As an organization, you do not want to hold a kid back from furthering his NHL dream simply because you don't have room for him on your roster. Sending Jonathan Bernier on his way is the right thing to do and as long as teams are reasonable with their offers, they may find themselves acquiring a solid young goalie that could solidify the position within an organization for years to come. Which is something the Toronto Maple Leafs are in desperate need of.