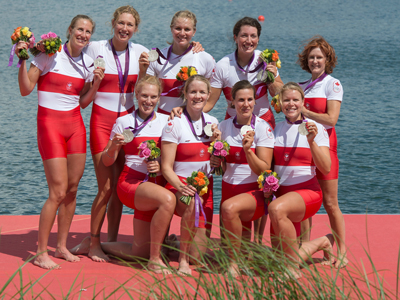 Edmonton - August 2, 2012 - Canada kicked off Day 6 of competition at 2012 London Games in style, winning their second consecutive silver medal in rowing, this time courtesy of the Women's Eight.

The ladies matched the Men's Eight performance from Wednesday morning, in earning a trip to the Olympic podium as the runner-ups to Team USA in the Women's Eight Final.

Unlike the Men, who were coming off a Gold Medal performance in 2008, the ladies finished fourth in Beijing, falling just short of an Olympic medal. They would not be denied this time around, clearly re-establishing themselves as one of the premier teams in the world.

The Canadian crew is led by veteran coxswain Lesley Thompson-Willie of London, ON, who has now won medals in five different Olympic Games and includes Janine Hanson of Winnipeg, MB, Rachelle Viinberg from Regina, SK, Krista Guloien, Port Moody,B.C., Lauren Wilkinson and Darcy Marquardt, both from Vancouver, Natalie Mastracci, Thorold, ON, Ashley Brzozowicz from London, ON and Adreanne Morin of Montreal.

Canada's latest medal means Canada has now made seven trips to the Olympic podium in London, with more on the way. They have collected five Bronze medals on top of the aforementioned two Silver Medals, that they have in rowing during Day 5 and 6 of competition.