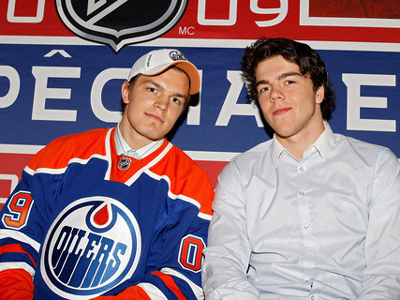 Edmonton - August 3, 2012 - Much of the hype surrounding the Edmonton Oilers has rightly been focused on the quartet of Jordan Eberle, Taylor Hall, Ryan Nugent-Hopkins and Nail Yakupov. With Edmonton prevailing as the winners of the Justin Schultz Sweepstakes, they have now turned that group of four into a quintet of impressive youngsters.

While much of their future fortunes will rest directly on the shoulders of those five players, it could be the development of the two somewhat forgotten kids, Anton Lander and Magnus Paajarvi, that may ultimately put them over the top.

Back in 2009, the organization decided to use their first two draft picks on the two good friends and teammates. Many felt the Oilers were handed the steal of the draft, in having Paajarvi fall onto their laps at number ten. They then decided to make it an all out Swedish affair, in selecting Lander with their second round pick, fortieth overall. While he did not come with the same offensive potential as a guy like Paajarvi, he was highly regarded by scouts for his leadership abilities. So why does it seem so much of the shine has come off the two young Swedes in three short years?

Obviously, the fact Edmonton have been able to bring in Hall, Nugent-Hopkins and now Yakupov, with three successive first overall selections, have knocked the duo down the depth chart but it's more than that. Through his first two seasons in the NHL, Paajarvi has had nowhere near the impact as the likes of Eberle, Hall and RNH and some are starting to wonder if he will ever turn into a true top six forward.

As far as Lander goes, he saw limited action in Edmonton, predominantly on the fourth line, but surprised everyone by making the club out of camp. Part of that was due to an ankle injury to Sam Gagner and with RNH, Gagner, Shawn Horcoff and Eric Belanger all likely to return next season, where does that leave the former World Junior's standout?

In all honesty, there's no guarantee that Paajarvi turns into that top six forward and most felt Lander would ultimately be a third line centre. Is this a problem for the Oilers moving forward? Does this make them expendable? In my mind, those are two very easy answers...no and no.

The fact Edmonton has been out of the Stanley Cup Playoffs since 2006, has made winning now a priority to the majority that follow the club. The drought has been long enough. It's time to turn things around and start winning more often than not. But at what cost?

Now if a deal involving either of the two youngsters would improve this club significantly, it is something Steve Tambellini and company would have to seriously investigate. Having said that, if any sort of move was made for a maybe or veteran help, using either Magnus or Anton as the bait, they would be wise to look elsewhere.

The way I see it, this team will be built in pairs upfront. The Jordan Eberle - Ryan Nugent-Hopkins and Taylor Hall - Nail Yakupov combos seem to make the most sense at the moment and likely for the future. Though the possibility of Eberle and Yakupov swapping roles does exist, as Eberle has shown to have great chemistry with either Hall or RNH. Regardless, the four will lead the charge upfront. Which leaves the potential for less dynamic but very useful combination, in Paajarvi - Lander.

Some may feel using the two Swedes in a third line role would be a disappointment, when in reality, it would be the complete opposite. If the players in front of them are better options, where is the problem? Depth within the roster is a must and that is exactly what players like Paajarvi and Lander give them.

In my mind, a player like Teemu Hartikainen is a third line guy who will put up points on the power play, while predominately seeing time in the Oilers top nine. The potential of using the feisty Finnish winger or possibly Tyler Pitlick, on a unit with Paajarvi and Lander, is an intriguing one. Obviously not next season but it's really not about next season.

Moving forward, Edmonton clearly needs to add size into their top six but that is where this team can look to bring in veteran scoring depth. Look for them to run with the Pittsburgh Penguins/Detroit Red Wings model and bring in quality vets. Be it players like a Bill Guerin, Marian Hossa or Todd Bertuzzi. All players who bring elements to a team, that younger options typically don't have. Leaving Edmonton with a third line that could more than hold their own on both ends of the ice and play in all situations.

While the here and now are important. Tomorrow should be what matters most to this organization and that is something it simply can not lose sight of.