2012 Olympics: Soccer - Canada to face Team USA in semi-finals after knocking off Great Britain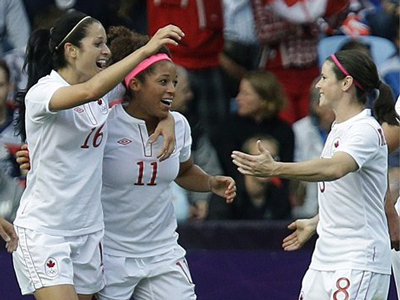 Edmonton - August 3, 2012 - Not many gave the Canadian Women's Soccer team much of a chance heading into London 2012 but they have shocked the soccer world, in getting to the semi-finals after beating Great Britain 2-0 on Day 8 of competition at the Olympic Games. First half goals from Jonelle Filigno and Christine Sinclair, proved to be too much for the hosts and Canada will now face Team USA at Old Trafford on Monday, with the winner securing a spot in the Gold Medal Final.

In what was an almost carbon copy start to Canada's final group stage match against Sweden, Canada was he stronger side in the opening ten minutes but were once again unable to break through with an early marker. However, unlike the finale of the group stages, they would be rewarded for their excellent start.

Filigno scored her first of the Olympics with a brilliant half-volley, off a Sophie Schmidt corner kick, that found the back of net and instantly silencing what had been a rather boisterous crowd at Coventry Stadium. The Brits and their supporters were absolutely stunned. Twelve minutes in and they were already behind the eight ball.

They would double that lead twenty five minutes in, thanks to a wonderful spot kick from their captain and a great run form midfielder Desiree Scott. The central midfielder, who was an absolute wall down the middle of the pitch throughout the match, made a will timed run up field that led to a Canadian free kick from just outside the Great Britain penalty area. Enter Sinclair.

Sinclair's well placed strike easily found it's way through a less than solid Great Britain wall and past a helpless Karen Bardsley. It was the third of the Olympics for the Canadian great and 140th of her illustrious international career but more importantly, it gave Canada a two goal cushion...which was two too many for the host nation to deal with on this night.

Team USA qualified for the semi-finals with a 2-0 victory over New Zealand and will head into the final four as the overwhelming favourite against their border rivals. A scenario the Canadian women should be more than comfortable with. They seem to relish the role of the underdog and don't be surprised if they pull off another and find their way into that Gold Medal Final.


8,401 Stories & Growing Daily...
To date OurHometown.ca has posted a total of 8,401 stories! News, sports, hockey, lifestyle, opinion and more!

Be sure to check out our Contributors and Columnists archives!
Click on Photo or Story Title for more info
OurHometown.ca News Database Last Updated:
Dec. 31, 2021 @ 8:03 AM EST