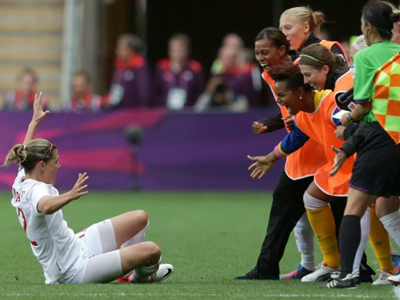 Edmonton - August 5, 2012 - To say the Canadian Women's Soccer team have been the surprise of these Olympic Games, would not be overstating this groups accomplishments in the least. While they have been one of the better sides in the world for years, currently sitting seventh in the FIFA rankings, they have never been considered to be one of the truly elite teams in women's soccer. If they can continue their winning ways in Monday's semi-final battle with Team USA, that would change in a heartbeat. Hopefully building a love affair across the country, that has always been missing, when it comes to the game of soccer and Canada.

Watching any national side reach the semi-final of a major soccer event is something Canadian Soccer supporters are, frankly, not accustomed to. This isn't how it usually goes. Be it the men or women, at some point they shoot themselves in the foot or have an unlucky bounce go against them, that leads to them simply self destructing. That hasn't been the case this time around. This one even feels different.

After losing a tough opening match to Japan, it looked to be more of the status quo for Christine Sinclair and company at these Olympic Games. They played well but looked as though they were trying not to lose, instead going for the victory. They had no problem routing South Africa their next time out, leaving the final group stage match with Sweden as their measuring stick.

In a rather surprising start to the match, Canada came out and dictated terms from the opening whistle and were unlucky to have not grabbed an early lead. That's when disaster struck. Sweden scored two quick goals, thanks to some awful marking from the Canadians and all one could think was, here we go again. They were about to self destruct yet again, when something unusual happened. They bounced back.

The fight these ladies showed in coming back to earn a 2-2 draw with the Swedes spoke volumes. It's not as though they were playing some middle of the road opponent. Sweden sits fourth in FIFA's rankings and had already held the Japanese to a 0-0 draw in their opening match. Not only did they come back but they were unlucky to not have collected a full three points. They needed their best players to step up and they did just that.

Melissa Tancredi scored both goals and Sinclair had a hand in each of them. As is the case in any team sport, you rarely win when you do not get a collective effort from the entire group. That being said, at some point, you need your stars to take over and Canada's top players did exactly that. Clutch performances, when they needed it most.

They topped that performance, with what was arguably the best all around game, any national side have produced wearing a Canadian jersey. They were nearly flawless in dismissing Great Britain in the quarter-finals, again no easy task. Beating any side on their home soil is a chore at the best of times but pulling it off in a major competition, is far more daunting task. Especially when you consider the Brits were coming off a perfect 3-0 mark in the group stages and having still not conceded a single goal. Yes, the vibe is definitely different surrounding this group.

Head coach John Herdman and his staff, should be given a ton of credit for the turn around. This is by far and away the fittest group of women players this country has ever put onto a pitch, thanks in large part to the implementation of a consistent training program by Herdman. You never hear a bad word about him from his players and he clearly has the necessary "buy in" that every coach wants from his players.

He believes in this team and what they can accomplish. Some may find it a little brash from the coach of a country that has never won anything at this level but it is an attitude that is rather refreshing and one that has rubbed off on his players. As they now believe they can play with anyone...including the mighty Americans.

While there is no guarantee that Canada can pull off the upset and dismiss their heavily favoured border rivals on Monday night, one thing is clear, they have never been as well prepared, both mentally and physically, as they are at this moment. Make no mistake, if they pull this off, it could be the biggest upset of the entire London Games...and one that they are more than capable of achieving.

One would hope, their performance at these Olympics will finally push the game to heights that have never been seem before in this country. Seeing as Canada is the host of 2015 Women's World Cup, this run could not have come at a better time. While it may have never become the norm, a love affair with the women's game is something we have all seen in the past.

Back in 2002 at the FIFA U-19 World Championships, fans across the country fell in love with a Canadian group that made it all the way to the finals, before losing to the Americans in extra time. They drew solid crowds, in smaller venues, in both Vancouver and Victoria but it was in Edmonton's Commonwealth Stadium, where fans came out in droves to support the club. Over 37,000 were in attendance for their semi-final match-up against Brazil, on a Thursday night, and nearly 48,000 for the Final against Team USA. That tournament also marked the first time that a young Christine Sinclair left her mark on a major international stage, winning the Adidas Golden Ball as the tournament's leading goal scorer with ten.

That final took place on September 1st, 2002. Almost ten long years later, the women's national team has a chance to reignite that spark that has been missing ever since. Having them not only upset the USA but play for an Olympic Gold Medal, would not only be the biggest achievement in Canadian Soccer history but also one of the greatest feats in Canada's Olympic history.