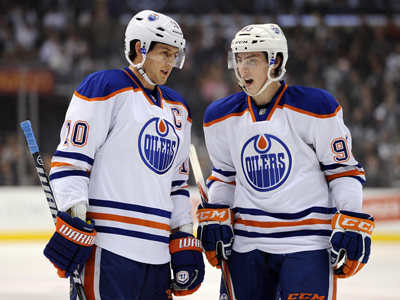 Edmonton - August 16, 2012 - Over the last number of years, Shawn Horcoff has become the whipping boy for the vast majority of Edmonton Oiler fans. No matter what the Oiler captain does, it is never good enough for the masses in Oil Country. Few are willing to look past that number...$5.5 million. Unfortunately, in their eyes, that number takes away much of what the eleven year vet provides this club.

Having said that, you would be hard pressed to find anyone that feels Horcoff hasn't been asked to do far too much in recent years. Having played in almost every situation that one could possibly imagine, many were hoping this coming season would finally see the captain's minutes and overall role reduced. Though a reduction in responsibilities would benefit both the club and player, fans should not count on it happening any time soon.

Looking at the Oilers depth chart down the middle, the pecking order seems pretty obvious:


Ryan Nugent-Hopkins
Sam Gagner
Shawn Horcoff
Eric Belanger


One problem...neither Nugent-Hopkins or Gagner are capable of taking on those dreaded "tough minutes", against other club's top lines. While the Nuge has already displayed a solid defensive awareness in his game, he is nowhere near ready to be taking on the best in the NHL on a nightly basis. Two or three years from now, no problem but not in his sophomore campaign.

As far as #89 goes, he is frankly a train wreck in his own end. He has shown marginal improvement in recent years but Gagner will never, and I do mean never, be a good defensive player. After five years in the National Hockey League, one would think signs pointing him in that direction would have appeared long ago. Not the case with Sam. It's not a big deal on a team that has that #1 guy in the middle, that can handle all situations. Unfortunately, Edmonton is not one of those teams.

Enter Shawn Horcoff.

After a very productive year on the Oilers power play in 2011-12, it's no a real stretch to pencil Horcoff in somewhere on the man advantage and in pen on the penalty kill. Add that to his regular "third" line centre duties and he'd be averaging around 17 minutes on most night's. However, that will change substantially when the Oilers are away from Rexall Place.

Teams will look to feast on the RNH/Gagner duo in their own rinks, making it far more likely for Horcoff to take on more minutes on the road. The extra ice time should bring his season average somewhere in and around 19 minutes a night, which is basically what he played last year. Probably far more than most fans were hoping but by no means surprising.

Frankly, the only other real option that head coach Ralph Krueger will have is Eric Belanger...and does anyone really want to go down that route again? With the Oilers looking like they will start the year, barring an off season trade, with Jordan Eberle, Taylor Hall, Ales Hemsky and Nail Yakupov as their top four wingers, the potential for instant offensive chemistry and defensive nightmares both exist.

With that much talent upfront, any team would be willing to live with some mistakes in the defensive third of the ice but the lack of any sort of size within that top six, makes it very unlikely for them to outscore their opposition on a consistent basis. Without having at least one defensively sound centre in that mix, those combinations will have their struggles on many a night.

Make no mistake, they will get their points but it will also lead to the Oilers losing their fair share of 4-3 and 5-4 games. Something fans have simply grown tired of. Another bottom five finish won't sit well with most in the provincial capital but that lack of size and defensive ability inside their top two units, will ultimately lead to their undoing and force Shawn Horcoff back into a role he has no business playing. Which fans must realize, isn't on the player but rather Steve Tambellini and company.

His contract is what is and that can't be changed. However, what can be fixed, is bringing in players that would allow Horcoff to play a role that he is best suited for. Allowing him the opportunity to try and put together a successful campaign, is something this organization hasn't given him in some time.