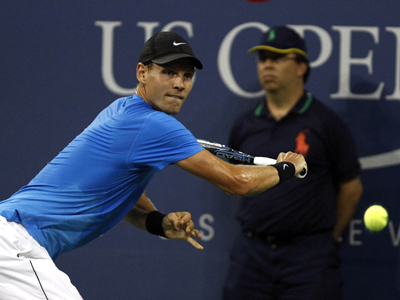 Edmonton - September 5, 2012 - While Tomas Berdych has had his fair share of success against Roger Federer, almost no one gave the sixth seed much of a chance of pulling off the upset in their quarter-final battle on Wednesday night. Not only did the hard serving Czech knockoff the Swiss maestro but he did so with ease. Dismissing the five time US Open champion in four sets, 7-6, 6-4, 3-6, 6-3.

The surprise loss means Federer will not be a part of the Final Four, for the first time since 2003, at Flushing Meadows. Couple that with the fact that Rafa Nadal is obviously missing due to a lingering knee injury and this will mark the first time that at least two of the so called "Big Three", will not all be a part of a Grand Slam semi-final since the 2010 French Open.

In an opening set that featured a some what erratic performance from the top seed, the two combatants found themselves headed to a tiebreaker to decide the opener but it was all Berdych in the breaker. As he routed Roger 7-1, to take the early lead.

He built on that momentum in set number two, as he committed only four unforced errors in breaking Federer twice and taking a commanding two set lead. Give the seventeen time Grand Slam winner credit, as he fought back to force a fourth set, thanks in large part to the complete collapse of Bedych's service game.

However, instead of allowing the thirty-one year old back into the match, the big twenty-six year old turned the tide back in his favour, after relocating his service game. After falling to a dismal 40% in set three, Tomas rebounded in a big way, pounding out a ridiculous 73% in the fourth set. leaving Federer no opportunity to find his way back.

With the win, Berdych will now appear in his third career Grand Slam semi-final and take on number three seed Andy Murray. The 2012 Olympic gold medalist had little trouble in ousting Croatian Marin Cilic 3-6, 7-6, 6-2, 6-0. Murray has now reached seven of the last eight Grand Slam semi-finals but is still searching for that elusive first major title.

Thursday's action will determine the other semi final match up, as fourth seed David Ferrer will face Serbian Janko Tipsarevic in one quarter-final, while seventh seed Juan Martin del Potro takes on defending champion Novak Djokovic, in a rematch of their battle for a bronze medal at the 2012 Olympics. This one could be a classic and will be the feature match of the evening draw at Arthur Ashe Stadium.