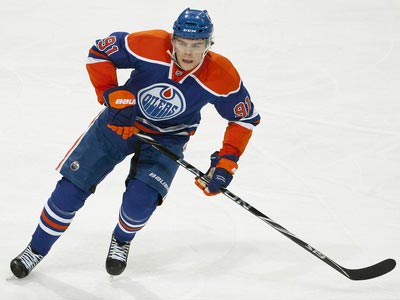 Edmonton - September 17, 2012 - With the National Hockey League currently sitting in full "Lockout Mode" and team's having already assigned their eligible players down to their minor league affiliates, there is likely no player with more to gain, than the Edmonton Oilers Magnus Paajarvi. Having rarely been given a long look with any of the Oilers top young players, the twenty-one year old is now staring at the likely possibility of playing alongside Ryan Nugent-Hopkins and Jordan Eberle on the Oklahoma City Barons top line.

After having very few legitimate opportunities to play in a top six role during the 2011-2012 season, Paajarvi could not have asked for a better situation heading into 2012-2013. With Edmonton deciding to bring veteran Ryan Smyth back into the fold and selecting Nail Yakupov with their first overall selection at the 2012 Entry Draft, the chances of the talented Swede making the big club out of camp, unfortunately, seemed highly unlikely.

The NHL's decision to lockout their players has changed all of that...and in a big way.

With Eberle and RNH both have been assigned to play in Oklahoma City during the current work stoppage, one would have to think that the organization's plan would be pretty straightforward. Play their dynamic duo with the smooth skating Paajarvi and see if the trio can form some chemistry. Frankly, if that isn't the plan, whatever the reason, than someone within this organization needs to lose their job.

While Magnus was solid during his time in the AHL during the 2011-2012 season, he was far from dominating. He did pick up twenty-five points in thirty-four regular season games and added another eleven points in fourteen playoff contests. Very solid but nothing earth shattering, which should come as no surprise.

The former tenth overall selection does own an impressive skill set but he is not in the same class as the likes of Eberle, Nugent-Hopkins, Yakupov and Taylor Hall. That being said, he does have the chance of becoming a very important "complimentary piece" for this franchise and he may never be given a better opportunity to prove his worth, than playing full time with two of the Oilers best young players.

As things currently sit, Edmonton have five of their top six forward spots spoken for come 2012-2013, whenever that might be. However, there is one spot on the left side that is there for the taking. Should Paajarvi develop some magic playing alongside Eberle and the Nuge, one would think, he would certainly get the first crack at that left wing spot.

If Magnus Paajarvi truly wants to become a permanent fixture within the Edmonton Oilers top two lines, this is his chance to prove his worth. Fail in this role, at that level and he could pretty much kiss that role goodbye. There is no shame in being a solid third line NHL guy but if he wants to be anything more than that, he needs to produce something special.


For all the latest hockey odds visit our friends at betfair Canada, take advantage oF great sign up bonuses now!