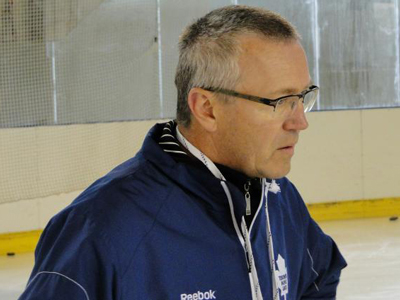 Edmonton - September 17, 2012 - For an organization that have struggled for years to find a legitimate starting netminder, be it via free agency or through organizational development, you would think the Toronto Maple Leafs would do their best to allow the man they brought in to address this glaring weakness, to simply do his job. Unfortunately, that's not how it works in Toronto, hence the announcement that goaltending consultant Francois Allaire and the club have officially parted ways.

Allaire did not hold his displeasure with the current situation in Toronto, telling the National Post on Monday, "To be honest, I don't think the Leafs need a goalie coach," said the longtime goalie coach. "I think they have enough of them. They have two or three guys who were making decisions with the goalies. In the NHL, that's not the way it works. If that's the way they want to operate, then I'm not there."

Doesn't sound like a happy camper and nor should he be. By bringing in Allaire, to help the Leafs with their goaltending wows, the organization weren't exactly employing a guy who didn't know what he was doing.

Prior to coming on board, he had spent the previous twenty-four years as the goaltending consultant with both the Anaheim Ducks and the Montreal Canadiens. Some of his career highlights include developing a young Jean-Sebastien Giguere into a Conn Smythe Trophy and Stanley Cup winner, as well as helping one Patrick Roy turn into one of the greatest goaltenders to have ever played the game.

Pretty safe to say, he knows a thing or two about goalies and yet the Maple Leafs apparently feel it was necessary to try and give him an extra hand or two or three, for that matter. Having someone with those credentials at your disposal, one would have to assume that anything involving goaltending and the Toronto Maple Leafs, would run through the forty-two year old goaltending guru.

Not surprisingly, when this was no longer the case, Allaire was less than thrilled. Seems odd that General Manger Brian Burke would go this route, having worked with him in Anaheim but apparently that didn't matter. For an organization that is currently looking at starting the 2012-2013 season with James Reimer and Ben Scrivens, as their goaltending tandem, Allaire's experience should have been a huge plus.

Instead, his departure leaves the Leafs in a less than desirable position in goal. Some may think with the type of performance Toronto have received from their puck stoppers, that losing Allaire would be no big deal and those people would be dead wrong.

The Maple Leafs haven't exactly had top end goaltending prospects for Allaire to work with but in my mind, all three of Reimer, Scrivens and Jonas Gustavsson have taken strides in their overall games, while playing in front of a god awful hockey team. Don't get me wrong, none of the three are world beaters but considering what Allaire had to work with, he has not done that bad of a job.

In typical Toronto Maple Leafs fashion, instead of toughing it out through the rough patches, they deciding to go back to the drawing board. A curious move but for this organization, it's par for the course.