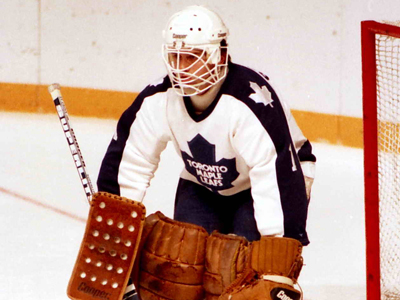 Edmonton - September 20, 2012 - Brian Burke just couldn't leave it. After goalie coach Francois Allaire, decided to send a few harmless jabs at the Leafs organization on his way out the door, Burke responded with an all out attack on the job done by the goaltending guru during his three years in the organization. Apparently riding the coattails of Chris Pronger and Scott Niedermayer to a Stanley Cup Championship in 2007, has suddenly made the Maple Leafs GM an expert on what is needed to develop a strong goaltender.

In yet another puzzling move, in what seems to be an endless string, Burke not only criticized the work Allaire had done during his team in T.O. but also went on to insult the man by saying:

"The position has evolved in the last three to five years," Burke said. "Nobody plays the classic stand-up any more either. Everything advances."

Funny. Considering six months earlier, he called him "the best goalie coach on the planet." Also, I am not sure what rock Burke has been under in recent years but the vast majority of NHL netminders "do indeed" still use the blocking/butterfly style. In fact, one could argue outside of a handful of tenders, it's as prevalent today as it has been at anytime.

So what gives? Pretty obvious, isn't it.

The Leafs head man doesn't like to be shown up and made to look the fool. Instead of just keeping quiet and thanking Allaire for his three years of service with the club, Burke insults the man who played a huge role in developing a young Jean-Sebastien Giguere into the third key component, of the aforementioned '07 Cup win.

To make matters worse, he than went on to add this ditty, addressing Allaire's claim that Leafs had too many cooks in the goaltending kitchen. "Was there interference from the staff as he said there was? Yes. But it was done reluctantly and it was done to change elements of our goaltending that was sub par."

Really? Does he really want to go down that road?

You can not bring in a bunch of backup goaltenders and hope your goalie consultant magically transforms them into legitimate NHL starters. It just doesn't work that way. Last time I checked, I am almost certain that lands at the feet of the General Manger, not the goalie coach.

As I mentioned in my previous piece, all things considered, Allaire did a fairly good job in helping develop James Reimer, Jonas Gustavsson and Ben Scrivens. Both Reimer and Scrivens spoke glowingly of their now former coach, with Scrivens maintaining the biggest reason he chose to sign with the Leafs in 2010, was because of Allaire's presence within the organization.

Sure doesn't sound like a guy that is at some kind of loss, when it comes to teaching the position. That being said, the time to turn the page has come and all signs are pointing towards Toronto bringing in former Leafs goaltender, Rick St. Croix, as the new goalie coach.

While St. Croix, the father of Edmonton Oil Kings star forward Michael St. Croix, had most recently overseen the Winnipeg Jets goaltending prospects with the St. John's Ice Caps, he also has ties to current Maple Leafs bench boss, Randy Carlyle, from their days together with the Manitoba Moose of the American Hockey League.

Could St. Croix be the answer? Possibly, he did have a hand in developing Vancouver Canucks starter Cory Schneider but to be fair, neither of the Maple Leafs current puck stoppers, are anywhere near that class of goaltender.

Bringing us back to that all important question. What does Brian Burke truly expect to get out of his current goaltending tandem? If it's elite level netminding, he is dreaming, but if it is a bottom ten goaltender he is wants, he is right on target. It doesn't matter who your goalie coach is, a backup is backup...no matter how you want to dress them up.