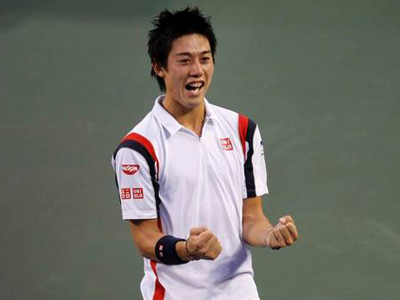 Edmonton - October 7, 2012 - The day after pulling off the biggest upset of the 2012 Japan Open, Canada's Milos Raonic failed to show up for the final. Japan's Kei Nishikori easily knocked off the hard hitting Canadian, 7-6, 3-6, 6-0, becoming the first Japanese player to ever lift the winner's trophy, in the forty year history of the Rakuten Japan Open.

Things got off to a poor start for Raonic, as he was broken in his first service game and fell behind 3-0. Even with his rather uneven start, Raonic managed to break back at 1-3, and clawed his way back to a first set tiebreaker...despite committing one unforced error after another.

After jumping out to an early 3-0 lead in the tiebreaker, three consecutive errors allowed Nishikori back in and the fan favourite would take full advantage. A brilliant passing shot gave the seventeenth ranked player in the world double set point and two points later, he had the opening set in the bag. Though Milos was fortunate to even find himself in the breaker, he let a massive opportunity slip through his fingers, by squandering the early mini-break.

To his credit, Raonic somewhat righted the ship in the second set, breaking Nishikori late in the set to even the match at a set apiece. He continued to struggle with his overall game but his suddenly inconsistent serve, was far better in the middle set, as he pounded out eight aces, keeping his counterpart off balance throughout the set. He mixed in a very effective serve and volley game, from time to time, and looked to have finally settled into the match.

The pro-Nishikori crowd were left in a stunned silence, after watching Raonic take the set 6-3, with the young Canadian seemingly having all the momentum on his side. Unfortunately for Raonic, he did nothing with it. His erratic play continued and before he knew what hit him, it was a carbon copy of the opening set, as he fell behind 3-0.

However, this time around, Nishikori would not let up. The early lead gave the usually reserved twenty-two year old a shot of energy and Raonic had no answer. For every great return of serve off Nishikori's racket, the over-matched Canadian responded with sending another ball long or into the net.. After raising his level of play against Murray, when it mattered most, the twenty-one year old failed miserably on this day, dropping the final set in embarrassing fashion.

While losing in any final is undoubtedly disappointing, the fact Raonic brought his "B" game in the championship match, is rather concerning. For all the good the win over Murray must have done his confidence, to play this poorly against a player he frankly should have beat, may, unfortunately, have the complete opposite effect moving forward.