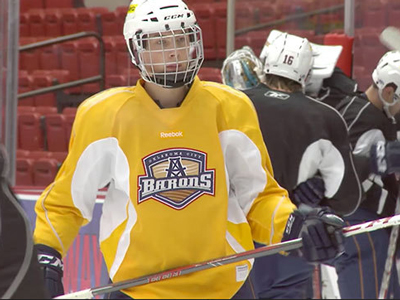 Edmonton - October 27, 2012 - Friday was not a great day for the Edmonton Oilers organization. Not only did the Oklahoma City Barons drop their third game of the young AHL season but they also lost the services of Ryan Nugent-Hopkins, after he was clipped by a high stick during first period action. Which came on the heels of Jordan Eberle leaving practice earlier in the day and being a game-time decision because of sore ribs.

After picking up an assist on Magnus Paajarvi's first period goal, Nugent-Hopkins night came to a rather abrupt end, as he took a high-stick to the mouth, off a face-off. While both RNH and head coach Todd Nelson declared the former Red Deer Rebels standout ready to go for the Barons game on Sunday night against the Texas Stars...he will be making his return wearing a full cage, which he will keep for the foreseeable future.

As if that wasn't bad enough, the Edmonton Journal's Joanne Ireland added a little more bad news on the injury front on, late Friday evening. Ireland reported that defenceman Andy Sutton is facing another surgery after having already gone under the knife less than four weeks ago, for a knee injury he suffered during the off-season. Apparently, they discovered Sutton actually fractured the medial condyle of the femur and is likely facing another lengthy rehabilitation. That is something no athlete wants to ever here but it makes it that worse, when you are thirty-seven years old and looking at playing one final season before calling it a career.

Add to that, the fact Sutton is like every other NHL player, staring at the possibility of lengthy lockout, and you realize why he is hinting that he might have played his last game in the NHL. While the potential loss of the thirteen year vet would have minimal effect on the ice, as he is slated to be nothing more than a depth defender. It will be off it, where Sutton's presence would be missed.

With Ryan Whitney being the only other true veteran on the Oilers blueline, much of the leadership responsibilities would fall to the Kingston, Ontario native. Having him around to help players like Theo Peckham further develop his game, would be invaluable. If this indeed is the end of the road for the undrafted Sutton, it has been a ride he would have to be extremely proud of.