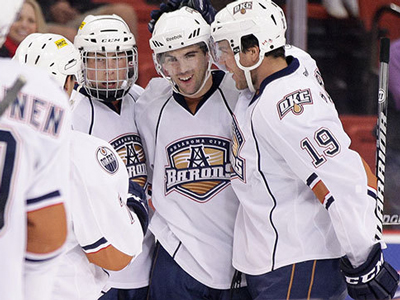 Edmonton - October 29, 2012 - Will this is getting to the point of being almost comical. With two more goals in the Oklahoma City Barons 4-2 win over the Texas Stars, Edmonton Oilers prospect Justin Schultz has now scored six goals and collected twelve points in the Barons first seven games.

Centre Ryan Nugent-Hopkins chipped in with two more assists upon his return to the lineup, while netminder Olivier Roy made twenty-seven stops in backstopping OKC to their fourth win of the season.

Heading into the start of the American Hockey League season, it seemed likely that Schultz would benefit from starting out his pro career in Oklahoma City...due to the NHL Lockout. Keeping that in mind, one would have to think the young blueliners performance during the opening weeks of the Barons campaign, has caught even the Kelowna native by surprise.

After watching the two sides exchange goals in the opening ten minutes of action, Schultz would break the deadlock scoring his first power play marker of the season, courtesy of a nifty little feed from Nugent-Hopkins and a secondary assist going to, you guessed, Jordan Eberle. The sound of those three names continually teaming up on the Barons power play, has to put a smile on the faces of Oiler fans everywhere.

With the Barons clinging to a one goal lead after the opening twenty minutes it took them all of two and half minutes to make it 3-1, thanks to a perfectly placed shot from Antti Tyrvainen. The Stars wasted little time answering back, when Cody Eakin beat Roy for his fourth of the season, only minutes after Tyrvainen extended the Oklahoma lead.

They would restore their two goal cushion with another goal on the man advantage and once again, coming off the blade of Mr. Schultz. While the former Anaheim Ducks second round pick posses a rather heavy shot from the point, it has been his seeing-eye wrist shot, that has been doing nothing but causing opposing netminders fits.

Some quick tape-to-tape passing, by Magnus Paajarvi and Nugent-Hopkins, freed up the talented rearguard for an open look at the Stars goal and he made no mistake, beating a screened Jack Campbell, for his second power play goal of the afternoon.

As for RNH, there seemed to be no lingering effects from the high-stick that knocked him out of action during Friday night's game against the Houston Aeros...that is other than sporting a full face-shield for the foreseeable future. Shield or no shield, Nugent-Hopkins is looking more and more comfortable and now sits second in team scoring with eight points in seven games.