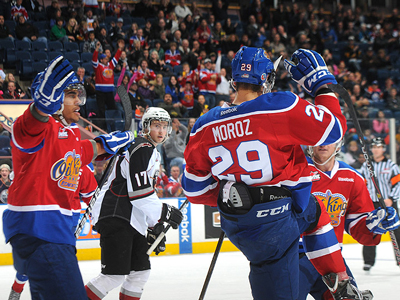 Edmonton - October 29, 2012 - Apparently all the Edmonton Oil Kings needed to turn things around was a little home cooking. With yesterday afternoon's 5-1 drubbing of the Vancouver Giants, the club finished their five game homestand with four consecutive victories and now sit alone atop the Central Division standings...one point clear of the Calgary Hitmen.

Backup netminder Tristan Jarry was rock solid, in making twenty-nine stops, and earning his third victory of the season.

Having played the night before, Edmonton were likely not thrilled with having to play an afternoon tilt and facing the possibility of coming out flat against the struggling Giants. However, veteran forward Travis Ewanyk made sure there would be no letdown, as he dropped the mitts in the opening minutes, in what was a spirited affair with Vancouver's Scott Cooke.

The early tussle seemed to spark the Oil Kings, as T.J. Foster would open the scoring, finishing a lovely three way passing play, for his tenth of the season and just like that, the visitors were down early. Edmonton would extend their lead in the dying seconds of period one, as Ewanyk fired home his third of the year to make it 2-0 and leave the Oilers prospect an assist short of earning a first period Gordie Howe Hat-Trick.

Vancouver would score the lone goal of the middle stanza, as Marek Tvrdon notched his fifth of the year and fourth in two games, beating Jarry with Edmonton a man short. The Giants had played a solid road game through forty minutes but just as they did the night before, it would be the Oil Kings role players that would start another third period onslaught.

Defenceman Cody Corbett would play a starring role in the third period outburst, sending Edgars Kulda on a breakaway with a beautiful pass, which the Latvian forward converted into his second goal of the season. Corbett followed that up by picking up his second helper of the period, on the third of the season from Mitch Moroz, to make it 4-1 and put this one to bed.

Leading score Michael St. Croix would add a little icing to the cake, late in the period, matching linemate T.J. Foster with his tenth on the campaign to make it a 5-1 and give St. Croix 250 points in his WHL career.

The Oil Kings will have the next four days off, before embarking on a rather lengthy six game road trip, that kicks off on Friday night in Prince Albert. After spending the last two weeks in the friendly confines of Rexall Place, Edmonton is now staring at the daunting task of playing their next six games in a span of nine nights.