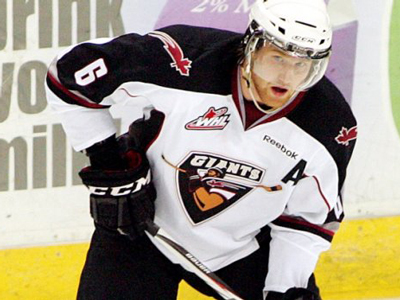 Edmonton - November 1, 2012 - It was a trade that had been rumoured for weeks, which finally came to fruition yesterday afternoon. The Edmonton Oil Kings acquired Vancouver Giants defenceman David Musil, the exact type of player many felt Edmonton was missing, in order to take a legitimate run at another WHL crown and ultimately, a Memorial Cup title.

Musil, a 2011 second round selection of the Edmonton Oilers, was off to a decent start in 2012-2013, collecting eight points and a rather solid even plus/minus rating, through Vancouver's first fourteen games. Unfortunately, the same can not be said for the Giants...as they currently sit in a tie with the Kootenay Ice, for last spot in the entire Western Hockey League.

The addition of the fourth year veteran will undoubtedly be a big boost to the Oil Kings lineup but it was a move that did not come cheaply. Edmonton General Manager Bob Green packaged his club's first round pick in the 2013 Bantam Draft, as well as promising seventeen year old blueliner Mason Geertsen, to get the deal done. Definitely a steep price to pay but one that had to have been expected, in adding a player of Musil's calibre.

The nineteen year-old son of former NHL defenceman and current Edmonton Oilers scout, Frank Musil, brings an added dimension and a bit of insurance to the Oil Kings backend. Having already lost former captain Mark Pysyk from last year's club and likelihood of playing the first half of the season without the injured Martin Gernat, Edmonton's blueline was in desperate need of another top four guy.

Musil fits that bill to a tee and also provides the Oil Kings with a very nice Plan B, should they lose captain Griffin Reinhart to the New York Islanders. Having said that, the longer the NHL Lockout drags out, the less likely a team like New York, would be willing to burn a year off Reinhart's entry level deal.

With that being the case, Edmonton could potentially be staring at having a top four which would include Reinhart, Musil, a healthy Gernat and Keegan Lowe for the last half of their schedule and more importantly, heading into the playoffs. An impressive blueline to say the least and when coupled with the likes of Michael St. Croix, Henrik Samuelsson, T.J. Foster and Curtis Lazar upfront, the Oil Kings look as though they could very well be a force to be reckoned with come May 17th, in Saskatoon.