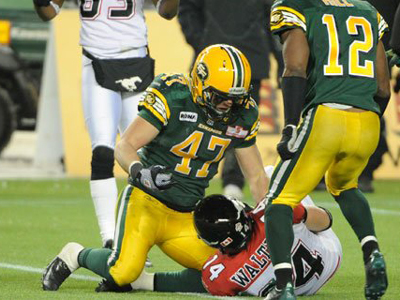 Edmonton - November 3, 2012 - Could it have honestly gone any better? Not only did the Edmonton Eskimos get the result they desperately needed, a 30-27 loss to the Calgary Stampeders, but they managed to do it in rather impressive fashion.

In a game that featured a bit of everything, including record breaking performances from Calgary's Jon Cornish and Edmonton's JC Sherritt, the Esks finally showed the capability of running a big play offence...in the air and on the ground.

After turning heads across the Canadian Football League with his play in what was essentially mop up duty, in last week's loss to the Montreal Alouettes. Quarterback Matt Nichols followed it up with another solid outing, making it extremely difficult for head coach Kavis Reed, to go back to struggling veteran Kerry Joseph, as his starting QB in next weekend's Eastern Semi-Final.

One would think that throwing for nearly 600 yards and five touchdowns over the Eskimos last five quarters of football, would put an end to the debate but that is an argument for another day.

While Nichols continues to impress, it is the instant chemistry he has shown with star receiver Fred Stamps, that has to excite coach Reed. After showing absolutely zilch with Steven Jyles to start the season and finally coming to life with Joseph at the helm, Stamps took it to a whole different level with #16 running the show. To be honest, the Stamps/Nichols combo looks to be a partnership that could potentially end up rivaling the star receiver's relationship with Ricky Ray.

Probably the biggest win on the night, was the return of the Eskimos running game. Be it the weather conditions or finally accepting the fact that they simply have to run the ball but on this night, the Cory Boyd and Jerome Messam duo looked downright scary at times. The pair combined to run the football nineteen times, for 105 yards and a twenty-one yard touchdown scamper from by Boyd...his first in an Eskimos uniform.

The two power backs proved to still be more than capable of moving the ball and eating up time of possession, if given the opportunity. Heading into the playoffs, it will be an absolute must for the Green and Gold to have some sort of ground game, be it from Boyd, Messam or the injured Hugh Charles.

Having said all that, Edmonton nearly ruined a potentially "perfect loss" when Grant Shaw lined up for a thirty yard field goal with just over a minute and a half left to play. Thankfully, Nichols bobbled the snap and Calgary would get the ball back with just under ninety seconds to play. However, the Esks would not go quietly, as T.J. Hill would pick off Bo Levi Mitchell, on the next play from scrimmage, making things look very bleak.

This time, it would be a brutal roughing the passer call against Donald Oramasionwu, that would negate Hill's interception and keep the Stamps drive alive. On the very next play, Edmonton had looked to cause yet another turnover but it was eventually overturned...on what was deemed to be an incomplete pass. It was a comedy of errors and it looked as though destiny might actually be on Edmonton's side.

With only seconds remaining on the clock, Calgary's Rene Paredes trotted out to the field, looking to end this one in regulation, with a 44 yard field goal. In what appeared to be, yet another cruel twist of fate, Paredes shanked his attempt well left and keeping the Esks alive. Fortunately, Edmonton had called a late timeout to try and freeze the Stamps kicker so he would get another shot at being the hero. Considering he had missed all of three field goals throughout the season, you can pretty much guess what happened next.

In a sense, it was a tough loss to swallow, being the third time Edmonton had fallen to their provincial rival on a last second field goal. Not exactly the way you want to lose but it is one result the Edmonton Eskimos should be more than happy with.

While General Manger Eric Tillman can't be thrilled with his team's 7-11 record during the regular season, that's all in the past. Next weekend is the start of a brand new season and one the Edmonton Eskimos will head into as a confident bunch.

The story lines are almost endless. East vs West, Argos vs Eskimos, Boyd returns home, Ray looks to stick it to Tillman. It could be an absolute dandy of a football game and obviously the dream matchup for the Canadian Football League. They could not have asked for a better way to kickoff post-season play and the road to 100th Grey Cup Final. Let the games begin.