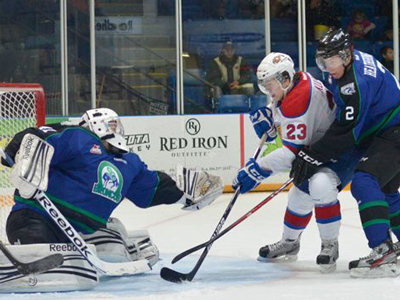 Edmonton - November 4, 2012 - While netminder Laurent Brossoit has been solid to start the 2012-2013 campaign, he had yet to go out and steal a game, as he did on numerous occasions for the Edmonton Oil Kings last season. Well, that was until now. Brossoit turned aside twenty-seven shots in leading a tired Oil Kings side, to a hard fought 2-1 victory over the Swift Current Broncos in Saturday night WHL action.

In an opening frame that saw the Broncos handed two early opportunities on the man advantage but they were unable to beat the Oil Kings netminder for an early ice breaker. They would eventually break the scoreless deadlock in the final minute of play, as Levi Bews would tip home his eighth of the season, giving Swift Current the lead heading into the first intermission.

Edmonton would continue their parade to the penalty box in the middle stanza, sending the Broncos onto three consecutive power plays but Brossoit and the Edmonton penalty killers held the fort and allowed the Oil Kings to get back on level terms...between penalty two and three.

Rookie Luke Bertolucci would score his first career Western Hockey League goal, knocking home a rebound off a Henrik Samuelsson blast, that Broncos netminder Eetu Laurikainen could not control, to tie things up a one a piece. This was only the ninth game of the year for the B.C. native but he made the most of seeing time on a line with Samuelsson and Curtis Lazar.

The Oil Kings would take their first lead of night, courtesy of who else but the red hot duo of TJ Foster and Michael St. Croix. On this night, it would be St. Croix who would play the role of hero, putting the finishing touches on a lovely three-way passing play between Foster, Dylan Wruck and the club's leading goal scorer.

The goal gives the Oil Kings leading scorer eleven on the season, including three game winners, and twenty-four points in Edmonton's first seventeen games. While his linemate isn't far behind, having collected twenty-two points and ten goals on the year. The two fifth year vets have carried the club through much of the early part of their schedule, as the likes of Lazar and Wruck have struggled with their consistency.

The win keeps Edmonton in a tie atop the Central Division with the Calgary Hitmen, as their southern rivals kept pace with the Oil Kings, thanks to a 4-2 win over the Brandon Wheat Kings. Thankfully, Edmonton will have the next couple of days off, after a rather hectic 72 hours, and will look to continue on their winning ways, as they pay a visit to the Kamloops Blazers on Tuesday night.