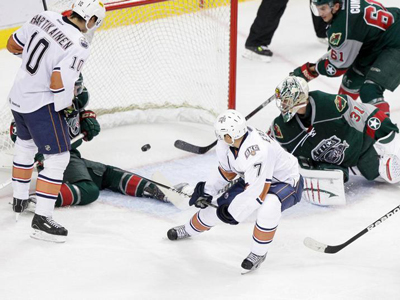 Edmonton - November 4, 2012 - It may have taken them a little time to get used to their surroundings but the Edmonton Oilers Jordan Eberle and Ryan Nugent-Hopkins continued their recent resurgence, scoring all three of Oklahoma City's goals but it wasn't enough, as the Barons fell 4-3 to the Houston Aeros in a shootout.

For the second consecutive night, Oklahoma blew a three goal third period lead and this time they could not find the eventual game winner. OKC defenceman Justin Schultz continued his torrid scoring pace, picking up two more assists, extending his point streak to nine games and giving him fifteen points on the season.

Outside of an early scrap between Houston's Corbin Baldwin and Cameron Abney, the opening twenty minutes was nothing like the previous night, which saw Taylor Hall score his first American Hockey League goal within forty seconds of the puck being dropped.

Neither side created much on their power play opportunities but Houston's Justin Fontaine came closest, ringing a shot off the post in the dying seconds of the frame.

Oklahoma wasted little time hitting the scoresheet in period two, as Nugent-Hopkins wired home his third of the season on a gorgeous feed from Schultz. The young blueliner carried the puck deep into the Houston zone, before finding RNH with a perfect feed and just like that, OKC had the lead.

After forty minutes of hockey delivered all of one goal, the following twenty would produce them at an alarming rate. The Barons would strike first to make it a two goal bulge, as Eberle would score his third goal in two nights, easily beating Matt Hackett on a breakaway...ten seconds into period three.

Just over five minutes later, the Oilers star sniper would make it back-to-back two goal efforts, sliding home his sixth on the campaign and giving him three points on the night. The helpers went to, you guessed it, Schultz and Nugent-Hopkins.

However, for the second consecutive evening Houston would storm back with three third period goals. David McIntyre would start the rally, firing a loose puck over Danis at the 9:44 mark, to make a 3-1 game. Two minutes later, the lead was down to one as Chay Genoway scored his second on the year, with the Aeros on the power play, in what was a carbon copy of McIntyre's goal. Second later...the comeback would be complete.

Joel Broda would bury his first of the season, as the Barons were inexplicably caught on a 3-on-1, making it a brand new game. After going nearly 50 minutes without a sniff, Houston managed to put three pucks past Danis in less than three minutes. Can you say momentum changer?

Surprisingly, after the all out flurry of scoring earlier in the period neither side were able to find the winner in regulation or overtime. Meaning a shootout would be needed to decide thing. One would think the advantage would go to highly skilled Barons but Hackett would have none of that.

The Aeros netminder set the tone for the shootout, stopping Eberle on Oklahoma City's first attempt, which was promptly followed by Zack Phillips beating Danis with a nifty backhand deke. Hackett stoned Schultz with a wonderful pad save and than got a little help, as Nugent-Hopkins rand one off the post. Fontaine would make 2-0, freezing Danis with a quick snapshot and Hackett would put an exclamation on the proceedings, clinching a clean sheet with Magnus Paajarvi clanking one off the pipe.

With the loss, the Barons finished off their lengthy seven game homestand with a 4-2-1 record and currently sit with a 5-3-1 mark on the season. They will have little time to think about what should have been a guaranteed two points, as they are back in action on Sunday afternoon, paying a visit to the San Antonio Rampage.

With Oklahoma playing three games in three nights, head coach Todd Nelson had previously decided to rest one of his star forwards in each game, meaning Eberle will not be in the lineup against the Rampage but Taylor Hall will get back into the starting lineup. Olivier Roy is all but guaranteed to start in goal for OKC, as Danis played on back-to-back nights and allowed Houston to storm back with third period comebacks in both games.