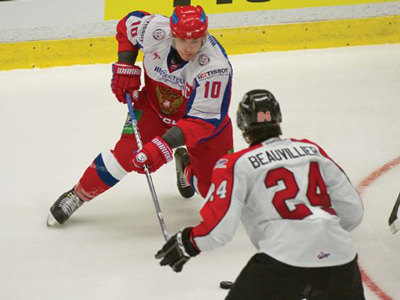 Edmonton - November 6, 2012 - Team Russia made a rather loud statement in the opening game of the 2012 Subway Super Series, pounding Team QMJHL 6-2, with captain and Edmonton Oilers prospect Nail Yakupov leading the charge with a goal and an assist.

Netminder Andrei Vasilevski was superb in stopping thirty-one shots in the Russian net but the same could not be said of QMJHL starter, Etienne Marcoux, who was torched for all six goals on the night.

Since it's inception in 2003, this series has generally been dominated by the Canadian Hockey League sides...at least until the last two editions. With each side having won the Super Series over the last two years, the Russian's look poised to make a solid run for their second title in three years.

Traditionally, they have always had their greatest success against the QMJHL squads and after yesterday's drubbing, they have now taken five in a row off their rivals.

After watching the hosts being handed an early chance on the power play, the visitors found their legs and Quebec Remparts forward Mikhail Grigorenko would open the scoring, on a three-on-way break. Less than two minutes later, Yakupov would double the lead, unleashing a perfectly placed blast past a stunned Marcoux and just like that, Team Russia was off and running.

Hometown favourite Xavier Ouellet cut the lead in half with a power play goal early in the second but Russia responded with three in a row, to build a 5-1 cushion early in period three. It was like watching men against boys and there was simply nothing they could do, to slowdown the onslaught.

Yakupov looked as if he could do whatever he liked...every time he set foot on the ice. His time over in the KHL has obviously allowed the former first overall selection to elevate his game to such a level, that he appeared to be in a completely different class among these youngsters. The captain was threat at every turn and was even throwing his weight around too boot.

The two sides exchanged goals in the final half of the third, to make it a 6-2 final, which was flattering scoreline for the hosts. With the finale of the two game set scheduled for Wednesday night, it would seem unlikely that Team Russia would not be heading off to face the OHL All-Stars, up two games to none. Which quite frankly, might be an all out necessity, for them to have any real chance of pulling off the series win.

Considering Russia has not won a single game, 0-18, against the Ontario Hockey League's best and have only been marginally better when facing the Western Hockey League gang, 3-14-1, one would think a sweep in Quebec would be a must for Mr. Yakupov and company...which is exactly what we should expect to see come Wednesday night.