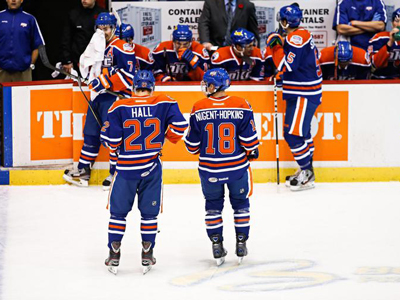 Edmonton - November 10, 2012 - It is easy to understand why Oklahoma City head coach Todd Nelson was entertaining the possibility of using his Edmonton Oilers trio of Jordan Eberle, Taylor Hall and Ryan Nugent-Hopkins, on each of the Barons top three lines. The troubling part, was he actually went ahead and did it. Not surprisingly, the outcome fell far short of what he was hoping for.

After Friday night's 4-0 thumping at the hands of the Abbotsford Heat, one can only hope this will be the last any of us will see of this so-called experiment. While the Barons were coming off a less than satisfying three-games-in-three-nights stretch, hitting the panic button was, apparently, how Nelson and his coaching staff wanted to deal with their weary hockey club.

While the first rumblings of the Oilers big three possibly being shifted throughout the OKC lineup, made the rounds on Tuesday afternoon. Most felt it was nothing more than a wake up call for the club, after blowing back-to-back three goal third leads. Unfortunately, that threat became a reality on Friday evening in Abbotsford, British Columbia.

Through their first ten games of the season, the three youngsters along with defenceman Justin Schultz had accounted for 16 of the Barons 31 goals on the year...which is somehow a bad thing. It's great that the coaching staff would like to start seeing the scoring spread out a little more but last time I checked, teams generally want their best players to do the lion's sharing of their scoring. If anything, they should be hoping for that gap ti grow further, now that Hall has joined the party.

Now don't get me wrong, I am not saying the three need to play on the same line at even strength but splitting up Eberle and Nugent-Hopkins, is downright idiotic. As any Oilers fan will tell you, the two seem to be born to play with each so what's the point in splitting them apart? As far as Hall is concerned, he tends to play better at even strength, when he is away from RNH. Hence, playing him with a guy like Magnus Paajarvi would seem to be the most logical move. Which is the exact route Nelson decided to go in Hall's first game.

In all honesty, outside of Paajarvi, Anton Lander, as poor as he has been, Teemu Hartikainen, who has looked good with the Nuge and Eberle, and possibly Mark Arcobello, at least until Josh Green returns from injury, no other Barons forward should see the ice with Edmonton's top prospects.

The fact that Nugent-Hopkins found himself on a line with Antii Tyrvainen and Tyler Pitlick, during lat night's pounding, was simply staggering. Hall was skating alongside Paajarvi and Chris VandeVelde, which wasn't much better. Eberle at least had something to work with, in Hartikainen and Lander, but like his good buddies, he created little on the night.

While no one really knows what the Oilers organization are expecting out of Nelson during the 2012-2013 season, be it guiding this team towards taking a legitimate run at the Calder Cup or just continuing to develop the prospects he has at his disposal. Regardless of which one takes priority, the best way of achieving either is by using players in their proper roles. There is no need to go out and try and re-invent the wheel here.

It is understandable for a coach wanting to try and kick start, what he feels, is an underachieving lineup. Having said that, any good coach will always put his players in situations they are most likely to succeed in. Todd Nelson did the exact opposite in Abbotsford and let us hope he has learned a valuable lesson from it. Let your best players, be your best players.

Keep it simple Mr. Nelson and it will all workout in the end.