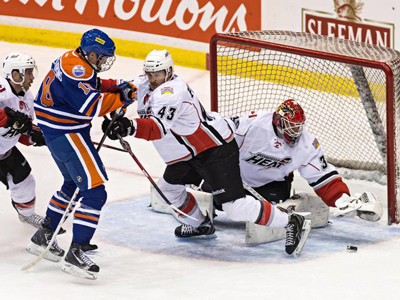 Edmonton - November 11, 2012 - After being shutout in back-to-back outings, the Oklahoma City Barons offence finally showed signs of life, beating the Abbotsford Heat 2-1 on Saturday night. Defenceman Justin Schultz scored the winner early in OT and Taylor Hall ended the Barons 187 minute scoreless drought, with a third period power play marker, improving the Barons record to 6-5-0-1 on the season.

Having been thoroughly outplayed by Abbotsford during the previous night's 4-0 thumping, OKC had something to prove and came out on fire on Saturday night. They peppered starter Danny Taylor with fifteen shots on goal but were unable to get one behind the Heat netminder.

Head coach Todd Nelson decided to revert back to a more "traditional" lineup, after having his "spread the wealth mentality "fail miserably the previous evening. He not only put Jordan Eberle, Ryan Nugent-Hopkins and Hall back together on the top line but also had a solid second line going, with Magnus Paajarvi, Anton Lander and Teemu Hartikainen.

For a game that was scoreless after forty minutes of play, it sure wasn't lacking from an entertainment standpoint. It was end-to-end action and physical too boot. Both sides created chances and was the brand of hockey starved NHL fans needed...especially in Edmonton.

Despite carrying much of the play through the opening two periods, Oklahoma City did not get their first chance on the man advantage until 7:06 mark of the final frame. The Barons wasted little time in converting, as Hall rifled home his second of the season, forty seconds into the power play.

That appeared as though it would be enough on this night but to the Heat's credit, they turned it on and through everything but the kitchen sink at Yann Danis. They rewarded with the tying goal late in the third, to send this one into overtime. Enter Justin Schultz.

Seconds after Eberle gained the blueline, the AHL's leading scorer pinched in from the point and opened up for the Oilers leading scorer to find him with a lovely little feather pass...Schultz did the rest. Snapping a perfectly placed shot over the shoulder of Taylor and into the back of the net.

It was a massive win for OKC but more importantly to fans of the Edmonton Oilers, it was a quick glimpse into the future.