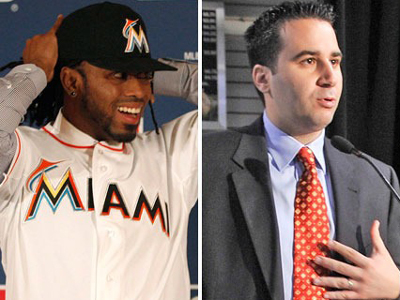 Edmonton - November 13, 2012 - This is what the vast majority of Toronto Blue Jays fans have wanted for some time. They wanted to see their team matter again. The masses wanted General Manger Alex Anthopoulos to make some sort of splash. Be it via fee agency or trade. It really didn't matter which, just do something.

Well, they have apparently had their wish granted, in a yet to be confirmed monster swap with the Miami Marlins. At first glance it looks almost overwhelming but in the long run, has it done more damage than good to the organization?

As of Tuesday evening, the rumoured deal would see the Jays add shortstop Jose Reyes, starting pitchers Mark Buehrle and Josh Johnson, catcher John Buck and utility man Emilio Bonifacio. In exchange, Toronto would part with shortstops Yunel Escobar and Adeiny Hechavarria, catcher Jeff Mathis, pitcher Henderson Alvarez, as well as prospects Justin Nicolino, Jake Marisnick and Anthony DeSclafani.

On paper it looks rather one sided but when one considers the Blue Jays have added an additional $170 million in payroll, $96 million of which that will be finding its way into the pockets of Jose Reyes. With that being the case, one seriously has to wonder if these moves make sense...be it in the short term or in the future.

While both Buehrle and Johnson will undoubtedly help a weak Toronto starting staff, neither make their rotation one that American League foes will fear. Having said that, the pair will be a welcome addition to what has become a joke of a starting rotation.

Buehrle was arguably one of the best pitchers in baseball during the early 2000's and while he is no longer that dominant guy, he still remains a quality starter and has been a model of consistency. He continues to find ways to win ball games, winning 13 games in each of the last four seasons, In fact, since becoming a regular with the Chicago White Sox rotation in 2001, the now thirty-three year old hurler has never won less than 10 games in a season and at no point, has he pitched in fewer than 200 innings in a season.

Johnson, who should become the Jays new staff ace, has shown flashes of brilliance but has yet to display the consistency necessary, to be considered a true number one guy. The twenty-eight year old has a career 3.15 ERA and has won 56 on his 93 career decisions. His imposing 6'7" frame has intimidated more than a few MLB hitters and made him one of the league's best strikeout pitchers. Having said that, he could be short term solution for Mr. Anthopoulos and company, as he is scheduled to become a free agent, following the 2013 season.

As for Buck and Bonfacio, neither should be anything more than that a role player but Buck could, potentially, push J.P. Arencibia for playing time, while lending a helping hand in further developing Arencibia's game. In all honesty, the two are almost carbon copies of one another, with the former Marlin backstop being six years older. Bringing us to Mr. Reyes and the huge gamble in making this move.

With all due respect to Jose Reyes, his best years are behind him. He may have won the NL batting crown in 2011 but look back over the last thirty-five years at the few elite leadoff hitters that stole bases, and only three were any good after their twenty-ninth birthday: Rickey Henderson, Tim Raines and Ichiro Suzuki. As good a ballplayer as Raines was, he was nowhere near the all around threat he was before hitting the age of thirty. Leaving Ichiro and Henderson in the sub-thirty club and I think we can all agree that Reyes is not in that category.

Playing that brand of baseball wears your body down over time and simply slows you down. Look at Reyes numbers during his first four years with the New York Mets, compare them to the following four and the drop is obvious. Even at his best, he was not a great OBP guy and his stolen base numbers have already been sliced in half. To make matters worse, unlike the three previous mentioned men, the ten year veteran does not have the advantage of playing in the outfield. Instead, he anchors the middle of the infield.

At the top of his game, you would be hard pressed to justify paying Reyes $19.2 million a season but that is exactly what the Toronto Blue Jays will be doing over the next five seasons. The talented infielder will be paid $10 million in 2013, $16 Million in 2014, $22 million in 2015, $22 million in 2016 and $22 million in 2017 and be bought out of his $22 million dollar option year in 2018, for a paltry $4 million.

If people think New York Yankees third baseman Alex Rodriguez is untradeable, what is Jose Reyes? He is a Toronto Blue Jay until he retires...that's what he is. Remember that Vernon Wells deal that fans despised? This one could arguably be worse. Why do you think Miami got so little in return?

Don't get me wrong, Alex Anthopoulos was in an almost impossible situation. The Blue Jays faithful have been speaking loud and clear for some time. They wanted something done and their GM went out and did something, Unfortunately for them, what was done still doesn't make them a true contender in the AL East or for a Wild Card but it definitely gives them a glimmer of hope. At the end of the day, it comes down to whether or not, that flicker of hope is worth being saddled with all that unmovable salary. In my mind, the answer is obviously no but for the sake of the Toronto Blue Jays and their fans, let us hope I am wrong.