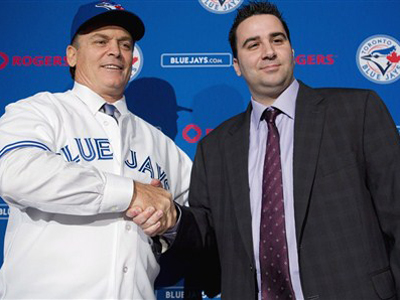 Edmonton - November 20, 2012 - Regardless on what side of the fence you land on, when it comes to the off season re-tooling job done by General Manager Alex Anthopoulos, it is hard not to be a fan of the Toronto Blue Jays decision to officially bring back John Gibbons as the clubs next skipper.

While word spread on Monday evening that the former Blue Jays could be returning to Toronto, the reaction with fans and media alike, appeared to be less than enthusiastic with the organization's latest move. There are those that saw no reason to re-visit part of the organization's unsuccessful past, in bringing back a manager who went 305-305 during his previous run as the Jays lead man. His best season, came in 2006, when he led the club to an 87-75 record. Not exactly earth shattering stuff

On the flip side, Gibbons has always been regarded as players guy, despite his well documented blow-ups with Shea Hillenbrand and Ted Lilly. Bringing in a no-nonsense leader to guide a roster that appears to have a decent mix of veteran and young players sprinkled throughout, is exactly what this club needs moving forward.

The deal with the Miami Marlins obviously makes the Blue Jays a better team but in my opinion, not an instant AL East contender and a move that comes with a major financial risk. As for the Melky Cabrera signing goes, which was finalized on Monday afternoon, it is nothing more than a 50/50 gamble. Could the admitted steroid user bounce back with a season similar to his 2011 and 2012 campaigns? Sure but it should surprise no one, if he were to revert back to the pre-2011 Cabrera. We all remember that guy. The one that was a .270ish hitter and displayed a decent glove in the outfield with the New York Yankees. A possible useful part but not an $8 million player.

With the player personnel moves that Anthopoulos has made with his ball club, it was essential for him to bring in a guy who not only will have his players backs but also not be afraid to crack the whip when necessary. Make no mistake, this team will not only have the spotlight on them in Toronto but across Major League Baseball. The Blue Jays wanted to become relevant again and might have bit off more than they could chew.

Making such a blockbuster deal with the Marlins and than following it up by adding baseball's latest steroid example to their roster, makes the Jays "the story" in baseball. The pressure will be on this organization from spring training on and they simply can not allow this team to self-destruct under that pressure. As good as the players they acquired from Miami were, let us not forget they were part of a team that many felt would be decent in 2012 and went on to have a 69 win season.

Alex Anthopoulos has put a huge bulls-eye on himself with his overnight re-building of the Toronto Blue Jays. While the Jays success will ultimately come down to whether or not the players produce between the white lines, John Gibbons could potentially play a far bigger role than many think possible. Anthopoulos is counting on it and is basically putting his future in the hands of his "new" manager.

How many days again until spring training?