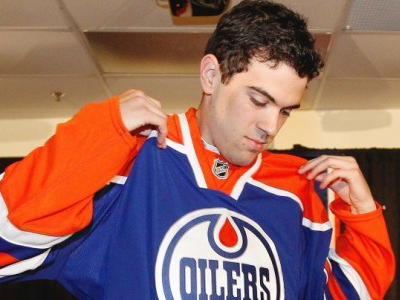 Edmonton - November 28, 2012 - While I was one who felt felt having Justin Schultz start his pro career in the American Hockey League would benefit him greatly, at no point did I envision what the talented blueliner has managed to accomplish during the first eighteen games of his career.

The Edmonton Oilers were well aware of the type of player they were getting when the decided to sign the puck-moving rearguard but no one could have seen this coming.

The former Anaheim Ducks second rounder has not only torn up the AHL to the tune of twenty-eight points in eighteen games but has looked downright frightening, in doing so. Watching this youngster jump into the play, be it on the rush or driving to the net on the Oklahoma City Barons power play, is an absolute treat for hockey fans everywhere.

Add to that, the fact he is already doing this playing alongside the likes of Jordan Eberle, Taylor Hall and Ryan Nugent-Hopkins and not surprisingly, fans across Oil Country are salivating at what these four might accomplish in Oiler silks. Many were expecting to see first overall selection Nail Yakupov play a starring role in Edmonton upon his arrival and while that will likely be the case, it might turn out being the former University of Wisconsin that ends up stealing the show.

Don't get me wrong, I'm not suggesting Schultz will terrorize NHL netminders as he has ripped apart American Hockey League tenders but he is clearly one special player. Watching the Kelowna native jump into the play as frequent and easily as he does, reminds me of Washington Capitals blueliner Mike Green or for older guys like myself, former Buffalo Sabres defenceman Phil Housley.

The twenty-two year NHL vet would jump up into the play with such reckless abandon, that Housley found himself with 1,232 career points and was a seven-time 20 goal man. While the game may no longer be played the way it is was during the 80's, the mindset Schultz appears to possess, is one that would have fit in perfectly during hockey's greatest offensive era.

He may not be where he needs to be in his own end but that will come with time. However, what Schultz brings to the game at the other end of the ice, can not be taught. It is something a player either has or doesn't and make no mistake, the youngster has "it" in spades.

While Eberle and Nugent-Hopkins displayed instant chemistry during the Oilers training camp in 2011, the same scenario has started to develop between Eberle and the talented blueliner. The two look as though they have played together for years and when you add that chemistry to an already lethal Edmonton power play, one would have to think the youngster will collect his fair share of points on the man advantage.

Think about it. The trio of Eberle, Hall and RNH combined for sixty-four power play points, with all three collecting at least twenty points. What could they do with Schultz added into the mix? Nugent-Hopkins was top ten in power play assists, despite missing twenty games, and Hall was tied for fifth in power play goals, having played only sixty-one games. Honestly, the sky could be the limit

When General Manager Steve Tambellini and company decided to jump into the Justin Schultz sweepstakes, the organization knew they would be adding an important long-term piece to the puzzle. That being said, no one could have seen this coming. Never mind the future, the kid looks as though he is ready to contribute now.

The future already looked bright in Edmonton and their plethora of highly touted prospects but the addition of Schultz puts them on a whole different level. Time well tell if this team will reach their full potential but one thing is clear, the Edmonton Oilers will entertain hockey fans for years to come.