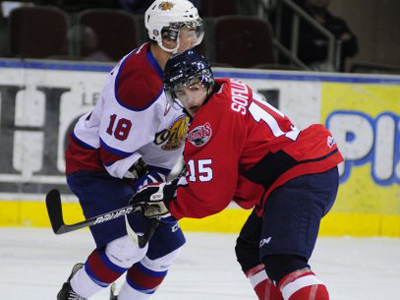 Edmonton - December 6, 2012 - On the heels of a crucial home and home set with the Calgary Hitmen, the Edmonton Oil Kings were hoping to sweep their two game series with the Lethbridge Hurricanes on Wednesday night. Unfortunately for them, the Hurricanes had other ideas, walloping the defending Western Hockey League champs by a score of 6-2.

Sam Mckechnie led the onslaught with a two goal performance, on a night in which Oil Kings starting netminder Laurent Brossoit could not make it through forty minutes of action. The loss dropped Edmonton back into a first place tie with the Hitmen, as the two sides prepare for their upcoming weekend battle.

Lethbridge set the tone midway through the opening frame, scoring twice in a seventeen second span. Goals from Russell Maxwell and Jamal Watson put the visitors behind the eight-ball but it was about to get much worse...despite Brossoit's best efforts.

The Oil Kings tender did his best to keep his side in it but eventually that bubble would burst. Mckechnie would notch his first of the night with Edmonton's David Musil in the sin bin and just over sixty second later, Jay Merkley would bring Brossoit's night to an end. Can you say mercy hook? Clearly, head coach Derek Laxdal could...as he pulled his number one guy before things got out of hand.

Mckechnie would make it a five goal cushion before the period was out, beating Tristan Jarry on a breakaway in the dying seconds of the middle stanza. While the shot clock may have hinted at a different story, as the Hurricanes held a slim 22-18 advantage, this one wasn't even close.

Two third period goals from Curtis Lazar made things look a little better but another power play marker, this one courtesy of Giorgio Estephan, would make it a 6-2 final.

On a positive note, the two third period goals from Lazar gives the highly touted prospect four goals in his last two games, as he finally appears to be coming out of his lengthy scoring slump.

Edmonton will now return home and prepare to host Calgary on Friday night, in a battle for first place in the Central Division. While the Hitmen have gone a perfect 3-0 against their provincial rival this season, the two sides have not faced each other since way back on October 12th.

The Oil Kings have played much better hockey over the past two months but to Calgary's credit, they have managed to stay right with the 2011-2012 WHL champs. Both clubs sit atop the division with forty-one points, three points clear of the surprising Red Deer Rebels, but the Hitmen do have a game in hand.