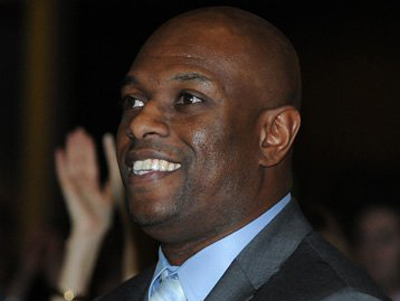 Edmonton - December 11, 2012 - If yesterday's press conference to announce Ed Hervey as the new General Manger of the Edmonton Eskimos is any indication of what can be expected from this organization moving forward, it appears as though the circus has finally left town.

After going through a tumultuous couple of seasons under Eric Tillman's watch and a less than impressive ending to the Danny Maciocia era back in July 2010, fans of the Green and Gold look to finally be headed towards a season that will primarily focus on the gridiron and not the front office.

With Hervey more than willing to allow Kavis Reed and his players to become "the story" in Edmonton, his focus will now turn to re-building the Esks front office and bringing in the pieces of the puzzle, that will give the head coach a legitimate shot at turning their on field struggles around.

The organization did their due diligence in searching for their new lead man but ultimately came back to their guy in house. After paying his dues over the last six years in the Eskimos organization, the last four being as the club's Head Scout, Hervey was ready to take that next step.

He has strong connections down south, especially on the scouting side of things, has been looked at as a serious contender by other CFL franchises, most notably the Winnipeg Blue Bombers, as a possible GM candidate and the fact he bleeds Green and Gold, makes him an absolutely perfect fit for everyone involved...organization, fans and community.

While the "double E stands for Edmonton Eskimos, not the Ego Empire," quote was the most entertaining moment of the Monday afternoon press conference, it was right on the mark.

The Eskimos have traditionally been looked upon as the Canadian Football League model franchise, be it on or off the field. Unfortunately, that has not been the case for some time and fans have let the organization know, the only way they can, how they feel, with their wallets. It was not that long ago that Commonwealth Stadium would routinely have 40,000 + in the seats and occasionally push 50,000 on certain nights.

Outside of the their season high crowd of 43,178 against the Saskatchewan Roughriders on August 10th, Edmonton's attendance was, more often than not, in the 30,000 - 35,000 range. If the message wasn't clear enough, the fact they had only 21,147 show up for their season finale, surely drove it home. Changes were needed, which was not something lost on the Esks new GM.

"We're no longer going to be perceived as a sideshow," said the former Eskimos great. "We're the Edmonton Eskimos. I want the fans to come back. I want our fans to be proud of everyone involved."

He then took it one step further.

"I want to make it very clear. This is not about me. This is about the Edmonton Eskimos. This is about our team. Our organization. Our direction."

Are you sensing a bit of a theme here? It looks as though tradition will be restored and now it becomes a matter of what comes next. One thing is certain, Hervey will have his his hands full. The most glaring need is a starting quarterback, be it Matt Nichols or someone from outside the organization, and deciding what to do with the club's twelve free agents, including the CFL's top defensive player JC Sherritt.

Having said all that, it is a challenge that Ed Hervey appears ready for and one that will allow him to mold this roster. "We won't be a team that gets kicked around. We will be bigger, tougher and more athletic. We're not going to be a team that gets pushed around late in games and late in the season."

Things look to be definitely headed in the right direction for both the Green and Gold and their fans.