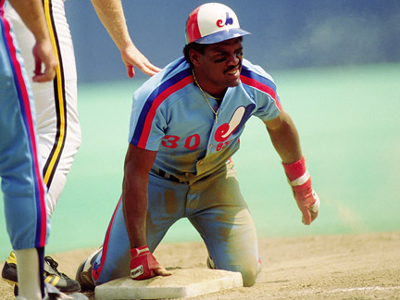 Edmonton - December 18, 2012 - With names like Barry Bonds, Roger Clemens, Sammy Sosa, Mike Piazza and Craig Biggio all making their debut on the 2013 Baseball Hall of Fame Ballot, many holdovers from last year's ballot have become lost in the shuffle. Only three earned more than fifty percent of the vote; Jack Morris (66.7%), Jeff Bagwell (56%) and Lee Smith (50.6%).

The next name on that list received only 48.7% of the vote, despite being the second best leadoff hitter to ever play the game of baseball.

From a statistical standpoint, it would seem difficult for baseball writers to keep Tim Raines out of Cooperstown and yet for what will be the sixth consecutive year, the Montreal Expos great will likely fall well short of earning the 75% of votes required, to enter the games hallowed grounds.

So what gives? Around this same time last year, I wrote a piece titled Tim Raines belongs in the Baseball Hall of Fame, which clearly states my position as to why Raines has earned the right to see his likeness on a Hall of Fame Plaque. So instead of re-writing the same column as I had twelve months earlier, I decided to turn my attention to what might be keeping a player that reached base 3,977 times during his playing career, off of so many ballots.

According to the BBWAA Election Rules, "voting shall be based upon the player's record, playing ability, integrity, sportsmanship, character, and contributions to the team(s) on which the player played". With this being the criteria given to the six hundred plus voters to follow, how exactly does the twenty-three year career of Mr. Raines fall short?

As far as the "player's record and playing ability" goes, few could match what the Expos legend could do on a baseball diamond. For the first decade of his career, Raines was regularly refereed to as the best player in the National League and was as dangerous a weapon you could find in baseball...including one Rickey Henderson. While Henderson obviously had the better career, during the mid-80's, it could be argued Raines was the better all around player.

He not only led the NL in stolen bases from 1981-1984 but remains the only player in MLB history to steal 70 plus bases in six consecutive seasons. During his time in Montreal, the talented outfielder made seven consecutive All-Star teams, was routinely among the top hitters in the league, winning the 1986 batting title and went on to lead the senior circuit in c variety of other categories...including runs scored, doubles and on base percentage.

Raines sits seventy-seventh on the all time hits list with 2,605, thirty-sixth in walks (1,330), fifty-third in runs scored(1,571), owns a career .385 OB% and is likely the second best basestealer to ever play the game. While his career total of 808 stolen bases leaves him fifth all-time, his 84.7% success rate is by far and away the best number in the history of the game, for players with more than 400 attempted thefts.

In a nutshell, he could do it all and during the vast majority of the 1980's, no one did it better. Safe to say, his record and ability are not an issue.

Next on the list would be "integrity, sportsmanship, character", which is where many have decided to give Raines a failing a grade. His battle with cocaine during the 1982 season is no secret, nor is the story of Tim "sliding headfirst into bases so he wouldn't break the cocaine vials he carried in his back pocket". Not exactly something to write home about but to his credit, it was a problem that than twenty-three year old faced head on and overcame before the start of the following season.

Recent Hall of Fame inductee Paul Molitor was a known cocaine user during that same time period, yet it affected him little when it came to voting. Unfortunately, the image of Raines sliding headfirst to avoid breaking vials of coke in his pocket, is something many voters can't get over. The kid made a mistake but at the end of the day, should it keep him out of the Hall of Fame?

Let's not forget, that over the next two decades, Tim went on to become one of the most well liked guys in all of baseball and is still held in high regard by many of his former teammates and other former and current major leaguers. One of those being Derek Jeter, who has regularly referred to Raines as his favorite Yankees teammate. According to the Yankee captain, his much older teammate "never seemed to have a bad day" and no one made him laugh the way "Rock" did.

He took on a much larger leadership role in Montreal, after the departures of Gary Carter and Andre Dawson, and continued doing so until the end of his playing days. The 1987 All-Star Game MVP was never one to show up the opponent and outside of his hiccup during the 1982 campaign, Raines always carried himself with grace and dignity, both on and off the field.

Bringing us to the final piece of the voting criteria "contributions to the team(s) on which the player played". While the Expos as an organization never reached their full potential during the early 80's, Raines did all that could be expected during his days in La Belle Province. His numbers speak for themselves and if he had put up those numbers in any major US market, instead of Canada, Raines would already find himself to be a member of Cooperstown

While he was not the same player during his days in a Chicago White Sox uniform or as a Yankee, he still contributed on a regualr basis and helped four of those clubs make it into the post season. However, many writers seem to only remember Raines during his time in the American League and pay little attention to his all around dominance during the 1980's.

At the end of the day, health issues in the latter part of his career cost Tim Raines from making this an easy decision for the BBWAA. His well publicized battle with lupus near the end of his playing days, not only cost him playing time, but was also believed to have had a hand in his injury issues during his days in New York. Had he even been somewhat healthy during those final few years, 3,000 hits would have been nothing more than a formality.

Unfortunately, that was not how things turned out but that one number, does not change the body of work. For those willing to take the time and actually do a little research, the number do not lie. It has nothing to do with so-called "advanced stats" and everything to do with your traditional baseball line. No matter how you want to break it down, all signs point to same thing...Tim Raines belonging in the Hall of Fame.