Edmonton - December 28, 2012 - Those who were privileged enough to have watched Tim Raines play baseball during his days in a Montreal Expos uniform, saw a player that could seemingly do it all on a baseball field.

There are those who will argue that he did enough throughout his career that warrant he go into the Baseball Hall of Fame, while others think he fell just short of reaching those lofty standards.

Whatever side of the fence you fall on in the Hall of Fame debate, there is next to no debate as to who the best player in the game was during the mid 80's. From 1983 - 1987, there was no player who electrified fans around the league and struck the fear of God into more opponents, than the Expos leadoff man.

Unfortunately for him, media outside of your traditional National League markets, few took notice and even fewer seem to remember just how good he was during his peak.

When people discuss the best ball player of the 1980's, the name that most commonly comes up is that of Rickey Henderson. Over the entire decade, there is really no argument. Players such as Raines, Wade Boggs, Tony Gwynn, Dale Murphy and Mike Schmidt all had a huge impact throughout the decade but none could match what Henderson brought to the diamond throughout that ten year period. Simply put, he was the best all-around player in the game.

Having said that, during the mid 80's, Rickey was "very good" but he was not the best player in the game. That honour belonged to one Tim Raines. While the Expos were continually falling short of the expectations many in the media had for them during the late 1970's, the native of Sanford, Florida was getting better with each passing season.

After his brilliant rookie campaign made Tim somewhat of a household name during the strike shortened 1981 season, his well publicized battle with cocaine abuse during the 1982 campaign, had him back in the public eye but for all the wrong reasons. Though his 1982 season was far from terrible, Raines seemed to be nowhere near the same player and the reasons were obvious.

To his credit, he came into the 1983 season not only "drug-free" but a far better player. He put together the best season of his young career on the base paths, stealing 90 bases, but also started to become a threat at the plate. Tim surpassed his homer total for the previous two seasons combined and fell just nine RBI short of matching his combined total for the previous two years.

As if his major league leading total of 133 runs scored wasn't impressive enough, Raines had a hand in either scoring and/or driving in 193 of Montreal's 677 runs on the season. To put that number into perspective, Raines had a direct hand in a mind-numbing 28.5% of all the Expos that crossed home plate.

He was moved from his usual spot in left field over to centre, in hopes of taking some of the pressure off Andre Dawson's bad knees. While he was a second baseman by trade, his blazing speed helped him make the transition into an everyday major league outfielder, during his rookie season.

It took him time to adjust to playing centre field but by the end of the year, he was among the league leaders in outfield assists with 21, while committing just four errors on the season. Raines was selected to take part in his third consecutive All-Star game and finished fifth in MVP voting. Not too shabby of a rebound season.

The following three seasons featured much of the same, as he continued to be among the league's best in various categories but saw him mature into an even better hitter. After flirting with the .300 mark during his first few big league seasons, Tim turned into one of baseball's best hitters. He not only topped the .300 mark on a regular basis but managed to win the NL batting crown in 1986, with a career best .334 average, as well as leading the league with a .413 on base percentage.

Following the 1986 season, Raines opted for free agency but garnered next to no interest on the open market. It was an absurd situation that was later determined to be collusion on the part of all major league owners but it was another turn of events, that would ultimately hurt Raines down the road.

Instead of playing alongside the likes of a Tony Gwynn in San Diego, who were said to be very interested in acquiring the Expos leadoff man , Raines would find himself back in Montreal and with little help around him.

After watching Gary Carter be shipped off to the New York Mets prior to the 1986 season and good friend and fellow outfielder Andre Dawson, leave for the friendly confines of Wrigley Field, with his now legendary "blank cheque" routine with the Cubs. Outside of third baseman Tim Wallach coming into his own and Hubie Brooks adding some pop to the lineup, when healthy, Raines had little to work with.

To make matter worse, he was forced to miss the first month of the season before being eligible to re-sign with the Expos, after no one tendered him a deal. One would think that would have slowed Tim down but it had the complete opposite effect. He was fantastic from the outset and put together the finest all around year of his career...not to mention one the best season's any player put together during the decade.

He returned to the lineup with a bang on May 2nd, 1987 against David Cone and the New York Mets at Shea Stadium. The game was NBC's featured "Game of the Week" and, for a change, gave Raines centre stage to do his thing.

Raines promptly spanked the first pitch he saw for a leadoff triple and simply took over from there. He went 4 for 5 with two singles, a triple, a walk, a stolen base, three runs scored, four RBI and a game winning tenth inning Grand Slam off Mets closer Jesse Orosco. It was a performance for the ages and one that Mets second baseman Wally Backman described as "that was an incredible thing we just saw".

Most forget that Raines took Bobby Ojeda deep in his first at bat the next day, leading the Expos to a 2-0 win and leaving the baseball world a buzz. Not surprisingly, Sports Illustrated would run a story on the comeback in their next issue and the "Rock" was the talk of Major League Baseball.

Despite missing the first month of the season, Raines would go on to lead the majors in runs scored, with an astonishing total of 123. He would hit a career high eighteen homers, hit for the cycle against the Pittsburgh Pirates in mid-August and trailed only Tony Gwynn and Pedro Guerrero in the senior circuit batting race, with an impressive .330 mark.

To top things off, Tim was named to his seventh consecutive All-Star game and brought home MVP honours from the mid-summer classic, going 3 for 3 with a stolen base and a game-winning two-run triple in the thirteenth inning. Some pretty heady stuff. His season was so good, that some did actually question the need for such a lengthy spring training.

Frankly, comparing Raines to Henderson during this five year stretch, is like comparing career numbers between the two greatest leadoff hitters of all time. Rickey had the better career but Raines was right there and at times, the better player.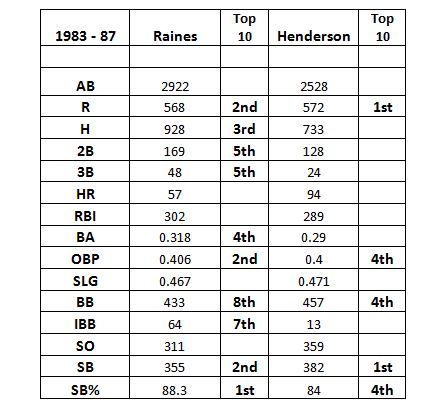 Raines was better in nearly every category and the only other player that came close to him during that period, was Boggs. While the Red Sox third baseman did lead the league in hits, doubles, batting average and on base percentage, the two are not really comparable players. Boggs could and more often than not, did, slap the ball all over the field and used Fenway Park's Green Monster to his advantage. That being said, he simply did not have the tools to take over games in the manner players like Raines or Henderson did.

In all honesty, the most telling of all the stats listed above is probably the amount of intentional walks Raines received during that stretch. Players like Tim would rarely if ever given a free pass because of the potential damage they could do on the base paths and yet, there he sits among the league leaders.

The names surrounding him, are those you would expect to see on such a list:

Garry Templeton, George Brett, Dale Murphy, Schmidt, Leon Durham, Dave Parker, Eddie Murray, Chili Davis, Tony Gwynn and Daryl Strawberry

Middle of the lineup guys and an eighth place hitter. It shows you the type of respect mangers throughout the NL had for Raines as a hitter. He was generally among the league leaders with runners in scoring position always displayed the ability to get the big hit for his team. In short, opponents wanted nothing to do with the Rock at crunch time.

All you have to do is go back and read publications from the era or quotes from various players and managers. Perhaps one of the best, came from Atlanta Braves skipper Chuck Tanner, as he referred to Raines during the 1987 season as, "not a good player but a great one". He went on to add for good measure, "he's the best leadoff hitter who's ever been in the game".

Legendary St.Louis Cardinals manager Whitey Herzog told Sports Illustrated back in 1986, that Henderson and Raines were unlike all other leadoff hitters the game had ever produced. " Henderson and Raines are in a different class from Vince Coleman or any of the other rabbits," said Coleman's than manager. " They do everything. They can dominate the game out of the leadoff position."

A sentiment echoed by former Montreal Expos first base coach and Padres bench boss Steve Boros. "I'd rather have Tim Raines or Rickey Henderson than any slugger in the game today," said Boros during the 1986 campaign. "That's not to say I'd take the good leadoff man over the slugger, per se. I'm talking about Raines and Henderson. They're probably the two best leadoff hitters who ever lived."

In his prime, Raines was as good as any player in baseball, which far too many people seem to have erased from their memory banks. He was not just a "very good" player but rather the cream of the crop.

At the end of the day, it seems unlikely that Tim Raines will garner enough interest from the BBWAA to enter Cooperstown in 2013 but let us hope he continues to gain momentum towards eventually finding his way in. While the memory of the Montreal Expos continues to fade in the minds of many, it would be an absolute shame for the franchises best player, with all due respect to Dawson and Vladimir Guerrero, to not eventually have a plaque inside the baseball Hall of Fame...where it rightfully belongs.