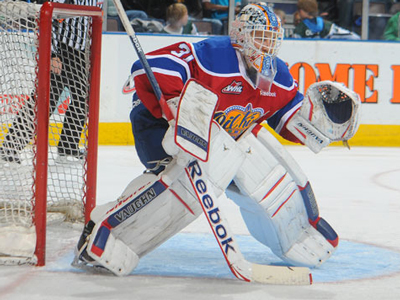 Edmonton - January 4, 2013 - Two third period goals from Stephane Legault and a forty-five save performance from Laurent Brossoit, paced the Edmonton Oil Kings to an impressive 4-0 victory over the Lethbridge Hurricanes, in the lone game on Thursday night's WHL schedule.

The win extended Edmonton's lead to three points over the Calgary Hitmen in the the Western Hockey Leagues's Central Division and leaves them atop the Eastern Conference standings with fifty-seven points.

The Oil Kings jumped out to an early lead, as Mitch Moroz shoveled home his eighth of the season behind Hurricanes starter Ty Rimmer. The goal came courtesy of some hard work from the Moroz, Travis Ewanyk and Klarc Wilson unit, that was easily Edmonton's best line on the night.

To their credit, Lethbridge did not allow the early goal against to get them down, as they fired nineteen first period shots on Brossoit but were unable to beat the Oil Kings puckstopper. The Hurricanes appeared to even things up with a second period power play marker but a quick whistle robbed them of the equalizer.

Edmonton wasted little time in taking advantage of their good fortune, as their third line continued to lead the charge upfront. Some yeomen's work from Moroz and Ewanyk produced a turnover.deep in the Lethbridge zone, which ultimately led to Wilson beating Rimmer from the side boards, on a shot the Hurricane netminder would love to have back..

After forty minutes of play, Edmonton held a 2-0 led, despite being outshot 34-28.

Legault would put this one to bed in the third, scoring on the Oil Kings first shot of the period, with an absolutely deadly finish, to make it 3-0. Just over three minutes later, he would notch his second of the period, after being sent in all alone on a gorgeous feed from defenceman Stephen Shmoorkoff.

The 4-0 victory was Brossoit's first clean sheet of the season and improves his record to 17-4-2-3 on the season. Since being cut from Team Canada's World Junior selection camp in mid-December, the Calgary Flames prospect has been simply outstanding.

In his three starts since returning to Edmonton, Brossoit has gone 3-0 with a sparkling 1.00 GAA and an eye popping .969 SV%. While the nineteen year old was disappointed with not making Canada's roster, he appears to have used it as motivation to prove his so-called critics wrong.

Having a focused and determined Brossoit, should make the Oil Kings that much harder to deal.with...words the other twenty-one teams in the Western Hockey League can't be overly thrilled to hear.