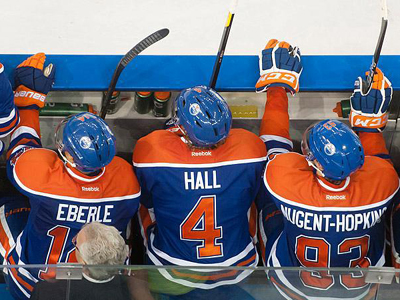 Edmonton - January 6, 2013 - After one hundred and thirteen days, the National Hockey League and NHLPA finally came to their senses on Sunday morning and put an end to what was arguably the dumbest work stoppage in sports history.

While it is absolutely mind-boggling to think this agreement took this long to reach, at the end of the day, the start of the 2013 NHL season is only days away from getting under way.

With that being the case, the pressure will be on every organization to get off to quick start, in hopes of securing a possible playoff spot down the road. Many feel a team like the Edmonton Oilers will have a decided advantage over most of their competition, as the core of their roster has been playing together in the American Hockey League.

Had there been no lockout, many felt this was the year that the Edmonton Oilers had to take a step forward. While earning a playoff spot, for the first time since 2006, would undoubtedly be the goal, it would not be a necessity, Coming off three consecutive seasons of battling for the title of "Worst Team" in the National Hockey League, staying in contention for the playoffs would have satisfied the masses.

With an abbreviated season now on the table and with the Oilers organization with this so-called advantage, have expectations changed? Would anything short of an appearance in the 2013 Stanley Cup Playoffs be deemed a failure? In the eyes of some it might but in reality, it should have no bearing.

For all the hoopla surrounding the additions of defenceman Justin Schultz and forward Nail Yakupov into the fold, in the short term, this club still has a ton of question marks. Be it in goal, on the blueline or upfront.

This will be the second consecutive season that Devan Dubnyk will be handed the starting job out of camp. Will this be the year the twenty-six year old overtakes veteran Nikolai Khabibulin as the number one guy? One would think it would be but Dubnyk's inability to display any sort of consistency during the first half of the last two seasons, is definitely cause for concern. Could he turn the corner? Absolutely but recent history tells us, he could just as easily falter out of the gate.

On defence, there is no question that the addition of Schultz, the supposed return to health of one Ryan Whitney and a full season from veteran defenceman Nick Schultz, makes this team far more competitive on the backend but they still have their warts. Outside of Ladislav Smid and elder Schultz, this group is far from solid in their own end and as usual, are an injury away from being in total disarray

While a top five of Smid, J. Schultz, Whitney, Jeff Petry and N.Schultz are solid, they are not world beaters. Now if Theo Peckham can claim that number six role and play a simple but useful game, Edmonton will be far better off. Yet expectations need to be realistic.

There is little doubt that Justin Schultz will put up his fair share of points during his rookie season and arguably anchor what could very well be the best power play in the entire NHL. On the flip-side of the equation, he will have his fair share of growing pains.

The talented blueliner will not only be looking at playing a compact NHL schedule during his first season but has already seen action in thirty-four games in Oklahoma City. Definitely a positive from a developmental standpoint but a rather heavy workload, for a guy that is accustomed to a forty game schedule at the University of Wisconsin.

Not surprisingly, he has started to hit a bit of a rough patch in OKC.While he has continued putting up points, the youngster has started to become a minus machine. Anyone that watches the Barons play with any sort of regularity, are aware of the fact the twenty-two year old sees a ton of ice time in Oklahoma City.

He plays in every situation for head coach Todd Nelson and after being on the ice for what seemed to be every goal the Barons scored, he is bleeding goals against in recent weeks. In all honesty, it is probably a blessing in disguise, that he is experiencing these challenges in the here and now.

Again, expectations need to be reasonable for 2013.

Which brings us to the forwards. If healthy, there is no doubt in my mind that Jordan Eberle, Taylor Hall, Ryan Nugent-Hopkins and Ales Hemsky will all have productive seasons. Yakupov will need time to acclimatize himself to the NHL game but should still collect his fair share of points, while Sam Gagner will be Sam Gagner.

However,there is one big problem with those guys all playing in your top six...they are no better than adequate in their own end.

With that being the case, do not be surprised to see the likes of Shawn Horcoff and Ryan Smyth still get their fair share of ice five-on-five. In fairness to head coach Ralph Krueger, his hand will be forced when it comes to his captain, as he has no other option. More often than not, Gagner needs a compass in his own end and at this stage of the game, it's asking a little much for Nugent-Hopkins to handle the Ryan Getzlaf's of the world on a nightly basis.

Their bottom six still lacks any sort of physical dimension, as General Manager Steve Tambellini decided to not bother addressing the club's lack of size during the off season, instead re-signing Smyth, Lennart Petrell and Darcy Hordichuk. All useful players but by keeping the roster basically in tact, it makes it almost impossible for a guy like Teemu Hartikainen to earn a spot.

The time has come for the Edmonton Oilers to start showing a marked improvement, in hopes of building what the organization is betting on being one of the league's premier franchises. Having said that, Rome was not built in a day and it is still about the process and ultimately achieving that lofty goal. As they are currently structured, could this team squeak into the playoffs? Possibly but they would need a lot of things to go right, for that to happen.

Keep your expectations under control for one more season Oilers fans and just be happy the game is back. Don't you worry, your time will come in the not too distant future.