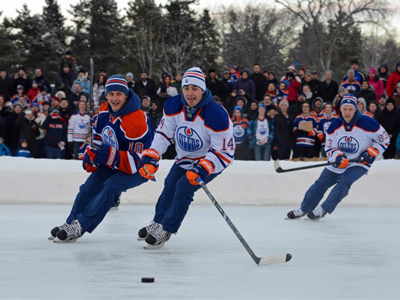 Edmonton - January 14, 2013 - On a day in which almost every other National Hockey League team had their first official on ice practice, the Edmonton Oilers did things a little differently.

After having their players report to Rexall Place earlier in the day and putting them through the yearly routine of medical and fitness tests, the organization decided to treat their fans to a game of shinny featuring their hockey heroes.

While the club had been hinting through much of the past week, that they could possibly be doing a little something for their fans this weekend. At the end of the day, they delivered a game of pond hockey at Hawrelak Park, in front of roughly 1,500 die hard Oilers fans,

Did I mention they did not officially announce the event until just ninety minutes prior to the 4:00pm puck drop? Safe to say, the passion for the game in good ol' Oil Country is alive and well.

It was Team Hall vs Team Eberle and hockey starved fans in the City of Champions could not get enough. Despite being put through the riggers earlier in the afternoon, the players were just as enthused, To be honest, they majority had that look in their eyes of a kid that was just let loose in a candy store.

Give the organization credit, no matter the size of the event, no one does this sort of thing better than Oilers. Be it the nearly perfect sheet of ice, which defenceman Ryan Whitney called " some of the best ice I've ever skated on", or the absolutely gorgeous backdrop, which included player benches made from bales of hay.

From top to bottom, it was a first class event. Which is no real surprise, coming from the organization that started the whole "Winter Classic" craze back in 2003, with the original "Heritage Classic" against the Montreal Canadiens..

Like the majority of other NHL cities, the Oilers first three practices, Monday, January 14th - Wednesday, January 16th, will be open to the public. Each session will run anywhere from sixty to ninety minutes in length and will began at 11:00am at Rexall Place.

They could have left it at that and just done something for the fans to kickoff the season but instead, they made that extra effort. Is it a huge give back? Not at all but to the organization's credit, they at least made the attempt to try and offer up something a little different in return and hopefully creating a lasting memory for those in attendance.