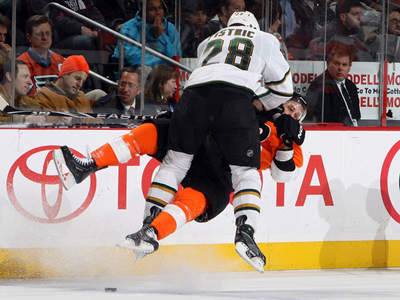 Edmonton - January 14, 2013 - The Edmonton Oilers first day of practice had few surprises but did feature the anticipated debut of Nail Yakupov at left wing, playing alongside Sam Gagner and Ales Hemsky.

Whereas off the ice, General Manager Steve Tambellini was able to make a bit of a splash on the trade market, acquiring rugged blueliner Mark Fistric from the Dallas Stars, in exchange for Edmonton's third round pick in the 2013 NHL Entry Draft.

Roughly midway through the Oilers on ice session, word broke that Tambellini had made a move to add some much needed depth to his paper thin blueline. While five of the top six spots were already earmarked for Ladislav Smid, Jeff Petry, Ryan Whitney, rookie Justin Schultz and veteran Nick Schultz, Edmonton had little proven NHL talent after that.

Adding Fistric into the mix, not only solidifies the top six but will also allow head coach Ralph Krueger to use both Corey Potter and Theo Peckham in more of a depth role. At the best of times, teams need eight NHL calibre D men to be successful and with such a compact schedule facing clubs over the next three months, it is an absolute must.

The injury bug has already hit the Oil, as Peckham was absent from today's practice due to a hip-flexor. Like Peckham, Fistric brings a physical element to the table that is frankly non-existent in the top five, outside of Smid.

During his five seasons in a Stars uniform, the twenty-six year old has been nothing but a wrecking ball on many a night, while delivering a solid stay at home style of play. While the native of Edmonton will never be mistaken for a point producer, he will be a welcomed addition to a blueline that, outside of Smid and Nick Schultz, can be a bit of a circus in their own zone...especially when they are being placed in situations they are not comfortable in.

With Krueger leaning towards using Schultz and Schultz as one of his potential pairings and keeping the tandem of Petry and Smid intact to start the year, it looks as though Fistric will be lining up alongside Whitney at even strength, while anchoring the Oilers penalty kill with Smid and Schultz.

As far as the first on ice session went, it was pretty basic stuff but did give us a glimpse into what the Oilers new bench boss had in mind, as far as his line combinations went.

Jordan Eberle, Ryan Nugent-Hopkins, Taylor Hall
Ales Hemsky, Sam Gagner, Nail Yakupov
Teemu Hartikainen, Shawn Horcoff, Ryan Smyth
Lennart Petrell, Eric Belanger, Ben Eager
Darcy Hordichuk, Chris VandeVelde, Magnus Paajarvi

Nothing earth shattering in those combos, as Petrell will almost certainly get the starting nod to help out on the penalty kill, with Ryan Jones likely out for at least the first few weeks of the season. Same goes for Hartikainen, who has all but earned a spot on the opening night roster, thanks to his net presence on what was a lethal power play in Oklahoma City.