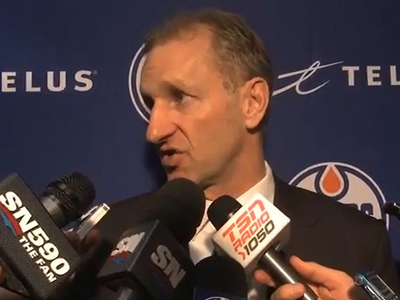 Edmonton - January 22, 2013 - It may have been just one game but it was definitely a nice change of pace. Head coach Ralph Krueger wasted little time in showing how he intends on running his bench come crunch time. The days of watching the Edmonton Oilers playing not to lose, thankfully, appear to be a thing of the past.

While the Oilers new bench boss is all about rolling his four lines, he clearly knows who his go to guys are. Watching the likes of Shawn Horcoff, Eric Belanger, Ryan Smyth, Lennart Petrell or Ryan Jones eat up much of the final five to ten minutes of a tie game, are no more.

Outside of Teemu Hartikainen, the rest of Edmonton's bottom six forwards all had strong showings in the club's season opener. That being said, there was absolutely no hesitation from the coach, in leaving the potential outcome in the hands of his skilled players.

It was a steady diet of the Jordan Eberle, Ryan Nugent-Hopkins, Taylor Hall trio, followed by the Sam Gagner line, with a make shift line of Belanger - Horcoff - Smyth mixed in form time to time. That was taken to whole different level in overtime, where this club has taken to "line matching" in recent years, instead of going strength on strength.

Krueger decided to run with pairings of Nugent-Hopkins - Eberle, Hall - Nail Yakupov and Gagner - Ales Hemsky during the extra session. The one time they had a face-off deep in their end, he sent Hall and Horcoff over the boards for the draw and as soon as the captain won the faceoff, off he came and on went Mr. Yakupov.

Add to that, the fact Justin Schultz was all over the ice in OT and one can see where Krueger's head is at. While we can expect to see Horcoff and company out in the final minute of games in which the Oilers are holding onto one goal leads, we will also see this team's top six get a regular shift in all situations.

While former head coach Tom Renney took to playing Horcoff and Smyth more than any other forward at even strength, Krueger's mindset appears to be at the opposite end of the spectrum.

Horcoff and Smyth still saw major minutes against the Canucks but were both under ten minutes of even strength ice time. Whereas Eberle and Hall both saw just under eighteen minutes at five-on-five, with Nugent-Hopkins not far behind, at 16:43. Krueger even took that a step further, playing his entire "second line", three minutes more than the aforementioned veterans.

Times have definitely changed in the Alberta capital and the rest of the National Hockey League should take note.