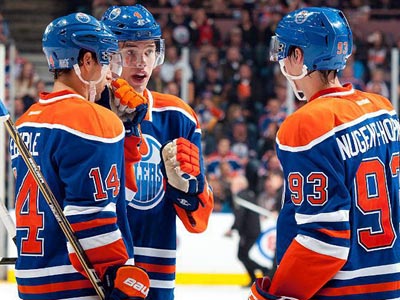 Edmonton - January 28, 2013 - In a perfect world, General Manager Steve Tambellini would have actually tried to address the lack of size within the Edmonton Oilers top six forwards but for whatever reason, that does not appear to be high on this organization's to-do-list.

Having said that, with the Oilers early struggles to create much of anything at even strength, the time has come for head coach Ralph Krueger to bring out the ol' blender and see what kind of mix he can come up with, to kick-start his group.

Four games into the season, this team has scored just ten goals. Six on the man advantage and two more with their goaltender pulled for an extra attacker. Essentially, they have scored eight power play goals and two at even strength.

Some will point to the fact the third and fourth line have yet to contribute, which is a fair point, but let's not kid ourselves here. The Oilers current dry spell has little to do with the lack of production from the Shawn Horcoff and Eric Belanger lines and everything to do with the struggles of the Ryan Nugent-Hopkins and Sam Gagner lines.

I have been at the front of the less ice time for Horcoff and Ryan Smyth bus, since the second game of the 2011-2012 season. To his credit, the Oilers new bench boss has rectified that situation but the so-called "big boys" have done next to nothing with their added responsibilities...though it is still early.

Through their first four games, Nugent-Hopkins leads all forwards in ice time with an average of 22:31 a night. Jordan Eberle is next at 21:46 and Taylor Hall rounds out the top three at 20:55. However, when you look at even strength minutes, you start to see a huge discrepancy.






It is fairly obvious where the vast majority of five-on-five time is going and where the scoring deficiency currently sits. If we were to eliminate Gagner and Nail Yakupov's late goals from the even strength equation, only Eberle and Hall have scored goals five-on-five. Eberle's being the catalyst in turning around the season opener in Vancouver and Hall's was the final goal in what was a beat down at the hands of the San Jose Sharks.

Some may think it is a tad early to push the panic button but this is not about overreacting. With four games already in the books, one twelfth of the Oilers schedule is already out the window. Before we know it, it will be the end of February and by that time, it will definitely be too late.

The decision Krueger has to make is actually quite simple. Re-work their current top six into different combinations or look at changing up the entire complexion of the first three lines. The fact he has dished out the ice time as he has, speaks volumes as to whom he sees as his key people. Ralph plans to ride his young thoroughbreds as far as they will take him...and frankly, he would be crazy not to.

With that being case, the following combinations would appear to make the most sense, for the immediate future.





If nothing else, these lines would spread the wealth among both groups and make it far more difficult for the opposition to try and shutdown what is clearly the Oilers top line. Teams cannot play their top D pairing against both lines, hence forcing them into making a decision. In a sense, they can pick their poison.

In all honesty, I have never been a huge advocate of playing the three kids together on a regular basis. Throwing the trio out from time to time, would be a nice change of pace and likely catch some teams by surprise. They are deadly on the man advantage but at even strength, they have yet to show any sort of really consistency...be it this year or last.

Eberle has developed a strong chemistry with both Hall and Nugent-Hopkins but the same can not be said about the other two. They have shown flashes when playing together but have never really meshed, outside of the power play. Whereas Hall had a nice run with Hemsky before getting hurt last season and the aforementioned Eberle/Hall duo, have looked good with both Horcoff and Gagner.

Personally, I have been intrigued to see what might come of a Taylor Hall - Nail Yakupov pairing, since the moment this organization called his name at the NHL Enrty Draft. Same goes for the possibility of seeing what the Nuge might do with the talented Russian trigger-man by his side.

In my mind, they would be wise to lean towards the Eberle - Nugent-Hopkins - Yakupov line and the Hemsky - Gagner- Hall trio. There is little doubt that these lines would be far harder for teams to matchup against but who knows if they would click. One thing we do know, is the current combos are certainly not.

While neither of the top two lines have been awful in their own end, you do get the feeling that could change at any moment with Gagner's line. Hall proved last season he was more than capable of handling tougher competition and Hemsky has faced nothing but exactly that, throughout his time in an Oilers uniform.

Making them the obvious choice for the improved but still somewhat defensively challenged Gagner.

The wild card in all of this, is Justin Schultz. With the talented blueliner already looking as though he will be handed top pairing minutes from here on in, giving him the ability to have two solid options to transition the puck up ice to but also jump into the rush, should the opportunity arise. It would also free up the coaching staff to not always try and have #19 jump over the boards, when the Nugent-Hopkins line hits the ice.

Will there be growing pains? Of course but how is that any different than what we are currently witnessing? As it currently sits, the Edmonton Oilers have a clear-cut number one line but after that...there is a big drop off. Making this small adjustment would undoubtedly weaken their so-called top line but at the same time, make them far more difficult to defend on a shift by shift basis.

Which at the moment...is clearly not the case.