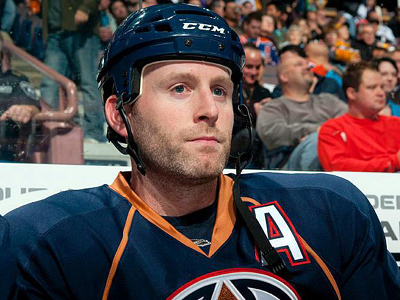 Edmonton - February 4, 2013 - To be fair, Edmonton Oilers defenceman Ryan Whitney is in an almost no-win situation.

The veteran blueliner has not only been robbed of much, if not all, of his mobility due to continual ankle problems but also had the misfortune of giving Oilers fans a glimpse of the player he could have been.

Unfortunately for everyone involved...he will never be that player again.

While the eight year NHL vet put together some impressive seasons during his days with the Pittsburgh Penguins, it also marked the beginning of Whitney's foot troubles.

The blueliner went under the knife in September 2008, missing thirty-one games, but hoping that surgery and some time off would be just what the doctor ordered.

However, shortly after his return to the Pens lineup, Pittsburgh decided to ship him off to the Anaheim Ducks, in exchange for winger Chris Kunitz.

Fast forward just over a year later and Whitney was packing his bags yet again, after being acquired by Edmonton for defenceman Lubomir Visnovsky.

During those first fifty-four games in an Oilers uniform, the American blueliner played arguably some of the best hockey of his career. On a team that lacked in almost every category one could think of, Whitney put up five goals, thirty-three assists and was a staggering +20.

He was being used in all situations was a twenty-five minute a night guy, who would occasionally be asked to push the thirty minute mark.

It appeared as though Edmonton had acquired the all around D man they had desperately been seeking. The future looked bright for both the organization and Whitney. That was until Tuesday, December 28th, 2010. From that point on, he was never the same.

Since undergoing surgery on his right foot and suffering through a knee injury to boot, Whitney has become a completely different player. To be fair, he was likely not the guy this organization saw morph into a top pairing blueliner during that fifty-four game run but he most certainly was better than we he has become. Which is nothing more than a bottom pairing guy, who can give a team some decent time on the man advantage.

Hence the dilemma the Oilers and head coach Ralph Krueger currently face. The hope was the extra time away from the game would allow Whitney to strength his ankle and hopefully get somewhere close to where he was prior to his injury woes. That has not happened. Through Edmonton's first eight games of the abbreviated 2013 schedule, the soon-to-be thirty year old rearguard has looked slow and over-matched in almost every outing.

While it was expected by most that he would take on a top four role on the Oilers blueline, it's clear that Edmonton's new bench boss had other ideas. The first warning signal, should have been the fact he was paired up with Corey Potter throughout training camp. If the intent was to use Whitney in the top two pairings, than why have him paired up with a guy who was fighting for a roster spot?

They saw the writing on the wall.

Fans and media alike were holding out hope that the old Ryan Whitney, or at least a close facsimile, would man the Edmonton Oilers blueline in 2013. Unfortunately, that player no longer exists. Meaning the time has come for Steve Tambellini to make a decision.

Outside of Nick Schultz, the Oilers top four are a young group and still have much to learn. If Whitney had been able to return to form, having a veteran like Schultz as their fifth D man, would have been ideal. As it stands they are missing that guy and have nothing more than number six or depth guys, in Potter, Mark Fistric and Theo Peckham.

At this stage of the game, Whitney appears to be a borderline five/six guy at even strength and that simply is not good enough for this team. Could he be used in that role on a team that have true top pairing guys? Yup but at the moment, Edmonton is not that team.

Heaping even more responsibility onto the shoulders of Ladislav Smid, Jeff Petry and Justin Schultz is not the way to go. Though many did not like the move at the time, bringing in Nick Schultz was just what this lineup needed. It was a smart move and one that had to be made.

The time has come to make another one of those moves. Let's hope the organization doesn't drag their feet and wait too long to make it.

Mr.Tambellini, you are on the clock.