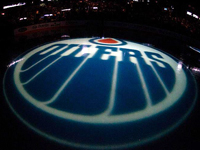 Edmonton - February 10, 2013 - To say the Edmonton Oilers are in a bit of a free-fall mode would be putting it nicely. They are currently riding a five game losing skid, having scored all of seven even strength goals through their first eleven games of the season.

With his club sitting with a 4-4-3 record, the sky is far from falling in on Ralph Krueger's crew but their lack of production five-on-five is rather worrisome for all involved...be it players, coaches or fans. While many would love to see General Manager Steve Tambellini seriously consider injecting some fresh blood into a suddenly sterile lineup, the Oilers have the answer in house...they just need to get the job done.

Now there were those who called out former head coach Tom Renney for relying too heavily on his veteran players during the 2011-2012 campaign, with yours truly driving that actual bus, Krueger has been at the total opposite end of the spectrum.

Edmonton's new bench boss has literally handed the likes of Jordan Eberle, Sam Gagner, Taylor Hall, Ales Hemsky and Ryan Nugent-Hopkins the keys to the car and thus far...they have failed to produce.

They have all delivered to varying degrees on the man advantage but at even strength, they have been a major disappointment. Would it be nice for the third and/or fourth line to chip in offensively from time to time? Of course it would but they are not what is ailing this club currently. Your go-to-guys have to put points on the board. Period.

While some would like to excuse Gagner from this group of underachievers because of his recently ended ten game point streak, I am not one of them. Through eleven games, the Oilers best forwards, more often than not, have usually been one of Hall or Hemsky. Sam may be leading this team with eleven points but he has also been missing in action on many a night. Simply put, he needs to be much better five-on-five and look to be a difference maker. Not just a guy that will pick up the occasional secondary assist.

Same goes for Eberle and Nugent-Hopkins. Both have failed to convert their chances of late and the time has come for them to start delivering. RNH has been outstanding in his own end of the rink but has just five points to show for his improved all around game. Whereas Eberle appears to be fighting it, for the first time since the opening weeks of his rookie season..

The former Regina Pats standout has not only gone goal-less in six straight but has now started to look off potential opportunities to fire the puck on net. He passed up on at least five chances to get a quality shot on net against Detroit and did so without any hesitation. While the youngster may not be one to fire a ton of shots on target, he has demonstrated a sniper mentality during the first two years of his career. Not so much at the moment.

As for Hall and Hemsky, it is almost a Jekyll and Hyde routine. One night they look like world beaters, while on others they look like completely different players. There is no question the two have brought it far more often than any other Edmonton forward this season but the consistency has not been there.

To Krueger's credit, outside of using Nail Yakupov on a line with Magnus Paajarvi and Chris VandeVelde in yesterday's tilt with the Red Wings, he has given his top six nothing but ice time, in hopes of them working through their problems. The story making the rounds this morning, has the Yak possibly getting a shot at seeing time with the Nuge and Eberle.

Leaving Edmonton's top six with the names that should be there: Eberle, Hall, Hemsky, Gagner, Nugent-Hopkins, Yakupov

At some point, Tambellini and company will need to address the size issue among their top six but that time is not during the regular season. There is no doubt he, like every other GM in the NHL, is looking to upgrade his D core but upfront, there is no need to push any sort of panic button and make a dumb move.

Ultimately, it is in the hands of those six players to turn this thing around and at the end of the day, that is all a coach can do. Now it is up to the players to hold up their end of the bargain.