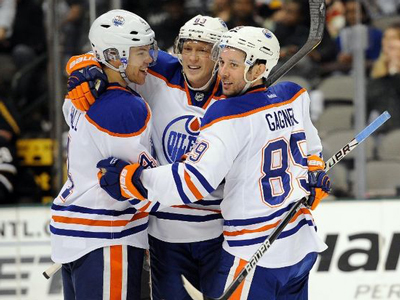 Edmonton - February 21, 2013 - With all due respect to Sam Gagner and his fast start to the 2013 campaign, Edmonton's two best forwards this season have been Taylor Hall and Ales Hemsky.

In a perfect world, having your two top performers spread out over a team's top two lines would be an ideal situation.

Unfortunately for Ralph Krueger, that has not been the case for this year's edition of the Edmonton Oilers and the time to make a change is now at hand. After the Oilers play host to the Minnesota Wild tonight, they will be sixteen games into their abbreviated campaign.

Meaning a third of their season will be in the books and Edmonton will be sitting at the bottom of the league in even strength scoring.

While the Oilers lineup does have holes, the fact they have scored just fifteen goals while playing 5-on-5, in fifteen games, is simply staggering. Some may applaud Krueger for his patience in allowing the kids to try and work through their struggles but at some point, a change has to be made.

Now he has tried some minor tinkering, using Teemu Hartikainen in a top six role on a few different occasions and the results have been lack lustre at best. They went down the Ryan Smyth route last year and it was clear he was out of his league over the final two-thirds of season. Ruling it out as a legitimate option this time around.

However, the one thing the Oilers new bench boss has not really tried, is reworking his current top six.

Krueger did try using Nail Yakupov in a third line role with Smyth and Eric Belanger against the Los Angeles Kings but thankfully, Yakupov was back on the Gagner-Hemsky line at Wednesday's practice.

Though going back with the status quo and letting the chips fall where they may, seems like an iffy solution. At some point, don't you have to try and make a change?

In my mind, the most logical choice would be keeping his pairs intact but swapping out the other winger spot. Essentially, you leave Ryan Nugent-Hopkins with Jordan Eberle and Gagner with Hemsky but change out Hall and Yakupov. This would reunite Hall with #83 and #89, whom he did show chemistry with during the 2011-2012 season, while allowing the highly skilled Russian a shot at becoming another triggerman for the Nuge.

Hall and Hemsky were dangerous when paired together last season and with the two easily being far and away their most consistent players thus far, riding their coat-tails may not be such a bad idea. Add to that as confident a Sam Gagner as Oiler fans have ever seen and suddenly you have the makings of a trio that could potentially help jump start Edmonton's pop gun offence.

There are those that feel Yakupov may not be ready for top line minutes but they need not worry. As any line that has the Oilers #4 on it, will be Edmonton's top unit. Also pairing the former Sarnia Sting standout with a far better defensive centre, should actually help with his occasional defensive lapse.

Making it impossible for opponents to key on the Oilers big three. As it currently stands, it is a no-brainer as to what line will get the opposition's top D pairing. Make this swap and that suddenly isn't so clear.

Logic would dictate most team key on the Hall-Gagner-Hemsky trio, leaving the RNH line a far more favourable matchup. This may be a little bit of déjà vu for regular readers, as I was calling for this swap to be made in late January (28-01-2013). It creates far better depth within the top six and as I said, it forces teams to make a choice.

At the moment, there is no choice to be made. It is very simple. Limit the top line's production and you likely beat the Oilers. Teams will gladly allow Sam Gagner and Ales Hemsky to collect their points, if it means limiting the big boys and walking away with two points.

No matter how good the Oilers goaltending is or how many chances they create up front, at some point, they have to score goals or none of it will matter in the end. While no one thought scoring would be an issue for this club, it is. That being said, turning a blind-eye to the problem and just hoping it will take care of itself is not the way to go.

As of this morning, the Edmonton Oilers sit in thirteenth place in the Western Conference but are just three points out of seventh. Time is of the essence and if Ralph Krueger waits too much longer to change it up, the playoffs could ultimately be out of reach.