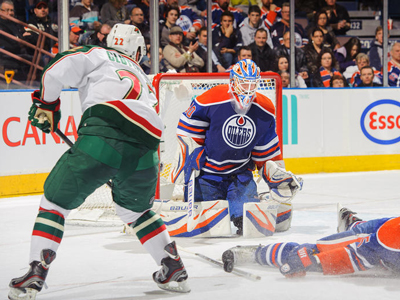 Edmonton - February 22, 2013 - Another game played and another two points down the drain for the Edmonton Oilers.

To make matters worse, Thursday night's 3-1 defeat to the Minnesota Wild proved costly in another area, as Taylor Hall was assessed a five minute kneeing major for a hit on Cal Clutterbuck, late in the third period.

With Hall likely facing a possible suspension and the Oilers on the verge heading out on their season high, nine game seventeen day road trip, things appear to be going from bad to worse for Ralph Krueger's crew.

After scoring a single goal for the third time in four games, Edmonton slipped to a disappointing 1-3, on their current five game home stand.

It was your typical Oilers vs Wild game. Boring as hell and hard to watch. Yet it in the end, the result never seems to change. Minnesota leaves town with two points and Edmonton is left scratching their collective heads.

After the two sides teamed up to play about as uneventful a period of hockey that anyone would ever care to see, not much changed in period two. That is until Ryan Smyth managed to slide home his second of the season, on the day of his thirty-seventh birthday.

It was typical #94, punching home an ugly wrap-around past an out of position and seemingly confused Niklas Backstrom. It was far from pretty but it was just what the doctor ordered. Any lead against the pesky Wild, is a step in the right direction for the Oilers.

Unfortunately, the lead would last less than three minutes. A mix up between Mark Fistric and Theo Peckham, making his 2013 regular season debut, allowed Mat Cullen to skate in untouched and slide a nifty little finish between the wickets on Devan Dubnyk. Just like that, the lead and momentum were gone and as usual, the visitors appeared to have Edmonton right where they wanted them.

One would think, heading into the third period of a game in your home rink, you would like your chances to pull out the two points. Apparently that wasn't the mindset over on the Oilers bench, as an awful bit of team defence and a brutal giveaway by Ales Hemsky, led directly to Devin Setoguchi's go ahead marker at the 2:20 mark.

Edmonton would muster up a handful of looks at getting back on level terms but were unable to beat Backtrom. Cullen would continue to play his re-occurring role as an Oilers Killer, wiring home his second of the night and third of the season, to make it a 3-1 game.

With the game out of reach, Hall looked to send a message, taking an open ice run at Clutterbuck with two and half minutes to play. Unfortunately for Edmonton and their star young forward, he caught the hard-hitting winger with his head down and absolutely destroyed him at centre ice but led with his knee on the hit.

The fact the hit was late and Clutterbuck needed to be helped off the ice, after weathering in pain for what seemed to be an eternity, made the incident seem far worse than it really was. While the penalty Hall was assessed was the right call, at the end of the day, Clutterbuck was not severely hurt.and likely suffered nothing more than a charley horse on the play.

Hall could face a disciplinary hearing and possible suspension for the hit, which is the last thing in the world this team needs. As if the thought of a nine game road trip wasn't bad enough, having to possibly start that trek without the services of their best player, could be a little to much for this crew too handle at the moment.