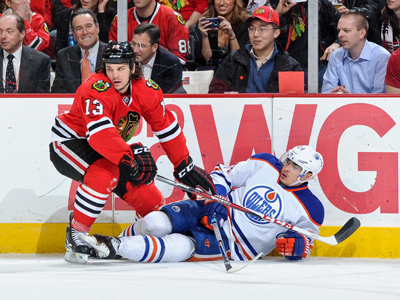 Edmonton - February 26, 2013 - Watching Chicago Blackhawks pest Dan Carcillo run the the Edmonton Oilers show on Monday night should have been the final straw.

Taylor Hall had reached his boiling point last Thursday against the Minnesota Wild and Cal Clutterbuck. At what point is someone outside of their best player, going to stand up to the likes of Carcillo, for taking runs at their best players?

Now the Oilers are in no way shape or form a big team but this is getting to the point of being almost unbearable to watch. There were at least four occasions during last night's contest, that the former Phoenix Coyotes forward nailed Edmonton players.

The same Dan Carcillo who wiped out former bluliner Tom Gilbert with a dirty hit, and knocked the rearguard out of action for weeks last season.

Carcillo took healthy runs at Jeff Petry, Chris Vandevelde and Nail Yakupov, while sticking Ryan Jones in the face. Give credit to VandeVelde and Jones for picking themselves up off the ice and taking their own healthy runs at Brent Seabrook and Marian Hossa but what about the other two?

Is it really too much to ask for someone to go and take a run at say Patrick Kane? And yes, I am talking to you Ben Eager. They only way to respond to the likes of a Petry or Yakupov being singled out for physical punishment, is to take a run at the oppositions best players.

In no way shape or form am I saying to go kill the guy but run him through the boards and plant him on his backside. It is actually rather simple. If it continues to happen, you do it again and maybe take a run at a Hossa or Jonathan Toews as well.

I could really care less that Eager is buddies with most of those guys over on the Chicago bench. He is paid by the Edmonton Oilers to do a job...so go out and do it. Has the former first round pick played well of late? He certainly has but his main purpose on this roster is to intimate and at the moment, he is failing miserably in this category.

Though Eager has been one of the main culprits, he is not alone. While the Oilers have a terrible mix in their bottom six to deal with such issues, no reason why any one of them can't go out and bang a body when necessary. On the backend Mark Fistric has been throwing his weight around as well as Ladislav Smid to a lesser degree but no one else has really stepped up their physical side of the game.

Earlier in the season, Smid did the honourable thing and answered the bell against the Los Angeles Kings, after Hordan Nolan decided to take hammer Jordan Ebere. In his one game this season, Theo Peckham made it very clear to every Minnesota player that wanted a piece of Hall after his hit on Clutterbuck, they would need to go through him first.

All positive signs but there is still something missing...a louder response. Either one is delivered or these kids will continue to be abused on a regular basis. Does anyone honestly think for minute, that Carcillo would have continued his act, had Kane, Toews or Hossa been pounded by an Oilers player a handful of times? The honest answer would be no.

Is the plan to just sit and watch Eberle, Hall, Ryan Nugent-Hopkins, Justin Schultz and Yakupov, never mind an Ales Hemsky or Sam Gagner, continue to be hammered on with no repercussions? There are those out there who say the best way to combat that is to score on the power play, like the Detroit Red Wings.

No offence but that's a load of crap. The Wings have always had players that could take care of their teammates and even in their current incarnation, have players in place to do exactly that. Who on the Oilers could you compare to a Todd Berrtuzzi, Niklas Kronwall, Johan Franzen or Jordin Tootoo? Heck, even guys like Dan Clearly and Drew Miller will play physical when necessary and stand up for a teammate. Those players are missing in Edmonton.

With all due respect to General Manager Steve Tambellini, former head coach Tom Renney and current bench boss Ralph Krueger, at what point does ignoring the problem no longer become acceptable? How many times are you going to watch players like Dan Carcillo take runs at your top players and do nothing about it?

Could some of it be coaching? Where they don't want their guys to take a bad penalty. Perhaps but if that is truly the case, it needs to be dealt with immediately. This organization's meal ticket is their young talent and it needs to be protected. If any coach can't see that, than they need to be shown the door. Not saying that is the case with Krueger but if it is, same rules apply.

Personally, I am not a huge fan of seeing a third pairing of Fistric and Peckham on a regular basis but if they can help fill this void, so be it. As a paring, would it really be an worse than say a Potter-Fistric tandem? Probably not and the one thing we know about Peckham, is he has his teammates back. Of that, there is no question.

This isn't about fighting. It is about protecting your own and sticking up for one another. Either you allow the guys you have in house to do their job or bring someone in who is willing to do it. This team has enough skill on it, that it can afford to add some of that so-called "functional toughness" to play in the bottom six.

No more excuses. The time has come to deal with this and deal with it now. There are loads of third or fourth guys who can still play a regular shift and produce next to no offence, like the Oilers current bottom six, but still provide what this team is missing.

Make it happen Mr.Tambellini, before you have another Cory Sarich on Taylor Hall situation on your hands and another one the Edmonton Oilers young star players laid out on some NHL rink.