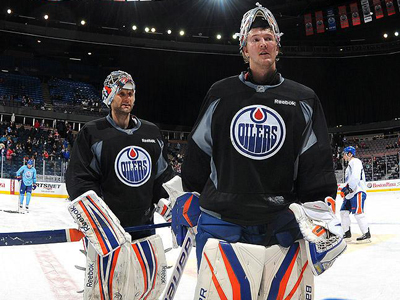 Edmonton - February 27, 2013 - Heading into this season, I was no different than the vast majority. I had my doubts about Devan Dubnyk being able to handle the role of being the Edmonton Oilers go-to-guy from Day One.

Where I differed from the majority, was believing Nikolai Khabibulin was more than capable of bringing his "A" game to the table, if deployed in a correct manner by head coach Ralph Krueger.

Eighteen games into this year's abbreviated forty-eight game schedule, you would be hard-pressed to find a single soul who has been unhappy with the play of either Oilers goaltender.

However, with the veteran netminder starting three of Edmonton's last four games, some are starting to wonder if a goalie controversy is brewing in the Alberta capital.

Despite the veteran puckstopper's stellar play, make no mistake, this is Dubnyk's show but he may get far more help from #35, than many felt possible. Remember, this is a fan base and media market that actually had some calling for General Manger Steve Tambellini to consider buying out the former ninth round pick of the Winnipeg Jets and rolling the dice with Yann Danis as the backup.

Far too many were ready to write off the former Stanley Cup winner, before seeing if he actually had any gas left in his well traveled tank.

Many seemed to be fixated on Dubnyk starting at least forty games this season, though there was really no need for it. Coming in I had him pegged for around thirty-seven starts but felt that number could slip slightly, somewhere in the neighbourhood of thirty to thirty-five, should Khabibulin bounce back from off-season hip surgery.

Devan has already proved he is capable of taking on a heavy workload, appearing in thirty-two of Edmonton's final forty-five outings during the 2011-2012 season. That wasn't in question.

What was yet to be answered when it came to #40, was could he carry the load from the drop of the puck. To his credit, that question has been answered...and rather loudly.

Outside of a hiccup against the San Jose Sharks in the home opener, Dubnyk was simply outstanding in eleven of his first twelve starts. He was a model of consistency from the outset, unlike the rest of his teammates, but has seen his play slip over his last three starts.

On the other hand, after making quite an impression in his season debut against the Detroit Red Wings, Khabibulin has been nothing short of brilliant, posting a 2-2-1 record with a 2.11 GAA and .935 SV% in his first five appearances of the year. A stat line that is not far off the ridiculous numbers he posted during his first five outings of 2011-2012 (3-0-2, 0.97GAA, .963 SV%).

When healthy and relatively fresh, the Russian tender has proven to still have a very high-end game. Problem is, at forty years of age, it is something he is simply unable to sustain for any length of time. Hence, why there is no real controversy in Krueger's decision to ride the hot hand of late.

Even myself, as a Khabibulin believer, I was surprised to see him start the Oilers last two games but after thinking it over, it actually makes perfect sense.

Heading into Edmonton's recently completed five game home stand, I had the seventeen year NHL vet pegged to start one of those games, likely against his former team from the desert. Following that up with another three starts on the Oilers nine game road swing.

While Dubnyk's struggles changed how the ice time was dished out over their recent stay at Rexall Place, the road trip looks to be following my projected course.

With Khabibulin having played well in Chicago on Monday night and Dubnyk already being on the losing end twice to the Dallas Stars, expect to see Khabby in the net one more time come Thursday night in Dallas. With Edmonton playing the next night in St.Louis, Dubnyk will to get the nod against the Blues. While it's very possible we could see the reverse, the safe bet would be a Khabibulin/Dubnyk split.

One would expect Devan to come out with a strong effort in his next outing, which would lead to him getting the nod on Sunday night against the Minnesota Wild. Leaving Edmonton with five games over a nine day span, including one back-to-back, to close out their season long road trip.

If Dubnyk relocates his game over his next two starts, all signs would point to him starting those four games.Should he continue to struggle, than Krueger would have no choice but to start Khabibulin in at least three of those games.

At the moment, it's about earning points to stay in a playoff race, not giving Dubnyk time to work through his game. He was handed that opportunity over the final three and a half months of last season. At this stage of the game, it's about performance. Plain and simple.

If the big guy plays well, the net will be his, more often than not. Which brings me back to the fascination some have with the former fourteenth overall pick "needing" to start forty games. If he is not getting the job done, you don't just keep feeding him starts...especially when you have another viable option in the short term.

For the Edmonton Oilers to have any hope of legitimately making the playoffs, Devan Dubnyk has to be their primary starter. That being said, there is absolutely nothing wrong with riding the coat-tails of Nikolai Khabibulin, while he is at the top of his game.

Regardless of whether Dubnyk sees action in just over thirty games or forty, the Oilers will have their answer by season's end, if he is truly their goalie of tomorrow.