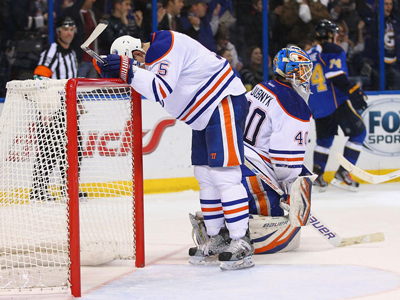 Edmonton - March 2, 2013 - The Edmonton Oilers saw themselves jump out to a two goal first period lead in St.Louis on Friday night against the Blues.

Typically, that sort of start almost guarantees a road team to take home points of some sort. However on this night, there was nothing typical about the Oilers performance over the final forty minutes of action.

Ken Hithcock's men shook off their slow start, scoring four unanswered goals, in handing Edmonton a disappointing 4-2 loss in Friday night NHL action. Vladimir Sobotka's third period marker proved to be the winner, on a shot netminder Devan Dubnyk would love to have back.

As if throwing away a potential two points wasn't bad enough, the news only got worse for the Oilers, as Taylor Hall was forced to leave the game in the second period, with what is being deemed as "leg tightness". In other words, some sort of groin injury.

Despite his premature departure, Hall still played a key role in Edmonton's impressive start, banging home a loose puck past Jaroslav Halak late in period one. After the two sides combined to play about as uninspiring a game as one would care to watch over the first seventeen and half minutes, the late goal seemed to give the Oilers life.

Twenty-three seconds later, they would double their lead, courtesy of much maligned blueliner Ryan Whitney. The talented defenceman showed glimpses of his old self, jumping in the rush and burying a beautiful feed from Ryan Smyth, to make it 2-0 for the visitors.

Seeing his first action since February 19th and having been a healthy scratch for seven of the last eleven games, Whitney played what was easily his best game of 2013.

Heading into the dressing room with a two goal cushion on a team that had been struggling to score goals and missing key personnel upfront, Ralph Krueger's crew could not having painted themselves a pretty picture. There was just one little problem...the Blues took it to another level over the next two periods.

St.Louis would outshoot the Oilers 22-10over the final forty minutes, erasing Edmonton's advantage by the midway point of period two. An ill-timed turnover from Sam Gagner at the St. Louis blueline, as #89 decided to take on four Blues instead of simply dumping the puck into the corner, led directly to Jaden Schwartz potting home his second of the year at the 3:38 mark.

It was just an awful play from the Oilers leading scorer, who left both Ryan Jones and Ales Hemsky in no man's land on the play. While Gagner has impressed on the scoresheet, the former sixth overall pick continues to be a turnover over machine, leading to far too many chances going the other way.

From that point on, the Blues kept on coming. Ladislav Smid took a boarding penalty at the 9:56 mark and thirty-four seconds later, the game was tied at two. Kevin Shattenkirk's point shot found it's way past a partially screened Dubnyk, who reacted slowly to the shot and frankly looked unprepared upon it's arrival.

Despite being outplayed for much of the period and having blown their two goal lead, Edmonton would get a splendid opportunity to regain their lead but Ryan Nugent-Hopkins failed to even get a shot on net, on a two-on-one break with Hall.

Ironically, this also looked to be the very play in which the Oilers #4 appeared to have hurt his leg, as his skate looked to have caught a rut in the ice.

Tough break for the visitors and one the Blues were not going to allow to pass, without taking full advantage.

Sobotka would give St. Louis their first lead just over four minutes into the final frame, as his quick no-look shot caught Dubnyk off his near post and asleep at the switch. The harmless looking volley found its way underneath the big netminder's left pad and for all intents and purposes, put this one to bed.

It was a dreadful goal, at the absolute worst possible moment. Which is something the best of teams have trouble overcoming, never mind the young and still inexperienced Oilers.

David Backes would close out the scoring on an odd man rush, thanks to a couple of poorly executed plays from Smid and Jeff Petry, depositing a perfect feed from T.J. Oshie off the post and behind a full extended Dubnyk. Killing any hope of a possible late rally.

After starting off their nine game trip with positive results in Chicago and Dallas, last night's blown lead was definitely a set back for the Oil. Add in Hall's injury and things could not have gone any worse.

As far the injury to the former first overall selection goes, the club was making it sound as though it was more of a precautionary measure and should not keep Hall out of the lineup for any extended period of time, if at all. Good news indeed, considering they are heading into the "must-win" portion of their seventeen day trek.

With the Minnesota Wild and Columbus Blue Jackets filling the next two squares on Edmonton's dance card, it is essential for the Oilers to come away with four points from their next two games. With the remainder of the trip featuring a back-to-back in Detroit and Nashville, followed by another trip to the United Center in Chicago and the finale on March 12th in Colorado, now is the time for this team to step up and grab some points.