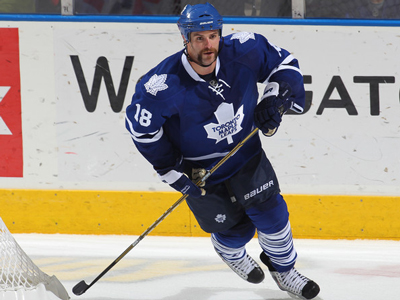 Edmonton - March 5, 2013 - With the Edmonton Oilers acquisition of former Toronto Maple Leafs pest Mike Brown on Monday morning, General Manager Steve Tambellini helped address his club's lack of toughness and willingness to engage physically.

On the other hand, he has added another body to a roster that already has far too many players on it.

For the second time in the last ten days, this organization has had the good fortune, and to a degree, taken the easy way out when it comes to player movement. When Ryan Jones returned to action on February 23rd against the Phoenix Coyotes, the Oilers placed Lennart Petrell on the IR for one game and than swapped him out for fellow Finn Teemu Hartikainen.

The same sort of thing occurred with Brown on Monday afternoon.

Edmonton made room for their new "tough guy" by placing defenceman Mark Fistric on injured reserve with a banged up elbow. Fistric won't be out long and at some point, Hartikainen should be ready to go. Meaning Tambellini and company are going to have to address the situation.

You would have think head coach Ralph Krueger would love to get down to seven blueliners on his active roster but that can't happen without a trade or exposing one of them via waivers. The second one will not and frankly should not happen. Meaning a trade has to be made or they continue to ride it out with eight D men. For the time being, bet on the latter happening.

Bringing us to the traffic jam within the forward ranks. When healthy, the obvious regulars would be;

Jordan Eberle, Taylor Hall, Ryan Nugent-Hopkins, Sam Gagner, Ales Hemsky, Nail Yakupov, Shawn Horcoff, Ryan Jones and Eric Belanger

Leaving four spots for six guys and that doesn't include Chris VandeVelde, who will head back to Oklahoma City upon Horcoff's return. The obvious and easy decision would be to send Hartikainen and Magnus Paajarvi down to OKC and run with a rotation of Brown, Ben Eager, Petrell and Ryan Smyth in those final three spots.

On the one hand, it would make sense and hypothetically make the Oilers a tougher team to play against but does it make them a better team? Removing both Paajarvi and Hartikainen out of the mix drastically reduces Edmonton's talent in their bottom six and should they continue to use Yakupov in a third line role, who on earth would he play with? Horcoff and....

Should the rookie Russian be pushed down the depth chart at even strength, the most likely choice to go up would be Jones. Leaving absolutely no one to play with the captain and last year's first overall selection. Which would be where a guy like Paajarvi could slide in.

If Yakupov is going to see time in the bottom six, it has to be with some sort of skill and someone that can skate. Outside of Paajarvi, the only guy that can skate well enough to play with him is Eager...which no Oilers fan should ever have to witness.

In my mind Petrell has to stay, as he brings something to table on a nightly basis and is best suited to fill/accept a 12th/13th forward role with Brown. In my mind, Smyth is redundant on a team that already has Jones on it, that does the same thing...only better. That being said, #94 isn't going anywhere.

There is no question this lineup needed an infusion of energy, making yesterday's move more than understandable and the guy does sound like a great team guy. Some like the move, some don't but it does address a need. Having said that, can't see the need in having both Mike Brown and Ben Eager in the lineup a nightly basis but we shall see how it shakes out.

Regardless, Steve Tambellini has a decision to make. Is it time for him to make a multi-player move to try and improve his club now and shakeup the look of his roster or does he take the easy way out and send Magnus Paajarvi and Teemu Hartikainen back to the American Hockey League.

You are on the clock Mr. Tambellini. Time to make something happen or at least address the traffic jam that is the Edmonton Oilers twenty-three man roster.