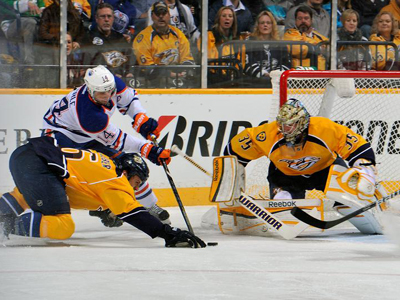 Edmonton - March 9, 2013 - Just when you thought things couldn't get any worse for the Edmonton Oilers, Ralph Krueger's crew hit a new low on Friday night in Nashville, Tennessee.

Colin Wilson led the onslaught with a four point effort, while Shea Weber chipped in with three helpers in leading the Predators to 6-0 thrashing of the slumping Oilers.

Pekka Rinne made twenty-four stops in earning his fourth shutout of the year but was rarely tested on the night. Down at the other end of the rink, Devan Dubnyk had a night he would like to forget, lasting just twenty minutes before being yanked in favour of backup Yann Danis.

While this team is struggling badly to create any sort of offence and has looked about as disengaged as a team can look in recent outings, Dubnyk's tendency of allowing a soft goal on a nightly basis is not helping matters. After allowing David Legwand's late first period dump in to elude him, this game was all but over.

That gave the Preds a 2-0 lead and the manner in which that second goal went in, basically killed this fragile group's will to compete. In Dubnyk's defence, that's not on him but rather his eighteen teammates that decided to fold up like a cheap suitcase, instead of trying to pick up their netminder and get back into the game.

That being said, in his last nine starts Dubnyk has posted a 1-6-1 record, with a .898 SV% and a dreadful 3.40 GAA. While he has been peppered on many an evening, those stats are simply not good enough.

Once Rich Clune banged home his second of the season, all of fifty-one seconds into period two, the beat down was on. It wasn't a matter of if the Oilers would drop their fourth straight but rather, how bad would the beating be.

Zach Boychuk would make it 4-0, deflecting Weber's point shot up and over an overwhelmed Danis at the 18:22 mark. Wilson would than add a pair of third period goals to complete the route and leave the Oilers in complete disarray...with the Chicago Blackhawks next on their dance card.

Seven games into their season-high nine game road trip, Edmonton has managed to put together 1-4-2 record, despite taking three of a possible four points from the opening two games of the trip in Chicago and Dallas. With two games remaining on the trip, that 1-4-2 mark could look even worse come Wednesday morning.

At the moment, there seems to be no end in sight to the Oilers current slide. Everything and everyone, seems to have gone in the tank at once. Be it the kids or the vets, you name the player, and they are likely struggling or coasting their way to a pay cheque.

In defence of Jordan Eberle, Taylor Hall and Ryan Nugent-Hopkins, all three guys are obviously playing hurt but their compete level over the last week has been unacceptable. Plain and simple.

With Shawn Horcoff set to make his return to the lineup on Sunday night in Chicago, it looks as though the Oilers captain may have to have a heart-to-heart with his teammates before even setting foot onto the ice. At this stage of the game, it's clear this group needs someone to pick them up and not one veteran player, that is currently on the active roster, seems interested in doing so.

For their sake of this team, Horcoff better not be part of that group.