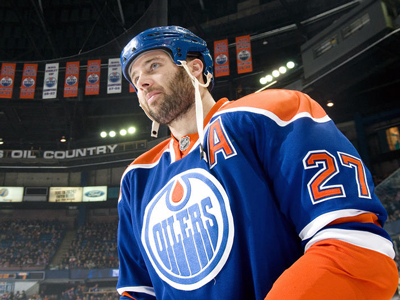 Edmonton - March 22, 2013 - Dustin Penner was arguably one of the most polarizing figures in the history of the Edmonton Oilers.

There are those that will argue that he is as lazy player as you will find in the National Hockey League and could care less about anything other than his next pay cheque.

While on the other hand, you have those that will go to their grave defending the value he brings to any team, fortunate enough, to have in their lineup.

Truth be told, the two-time Stanley Cup winner likely falls somewhere in between the two. He has been known to look less than engaged during stretches in a full NHL season but when he is on his game and focused, few can deliver the type of game the undrafted Penner can produce at his peak.

Having said all that and with the NHL Trade Deadline quickly approaching, would it be totally out of the question for General Manger Steve Tambellini to look as re-acquiring the former thirty goal man for the Oilers stretch run? Long term, this would not be a partnership that either side would likely want but in the here and now, it makes perfect sense for both the player and team.

With Penner's one year $3.5 million contract up at the end of the current season, the big man will be headed to free agency, in what looks to be a very thin UFA market. In parts of three season with the Los Angeles Kings, the thirty year old has put collected just thirty-three points and scored eleven goals in 106 games with the defending Stanley Cup champs. Not exactly awe-inspiring numbers.

Whereas during his time in Edmonton, Penner scored 93 times and chipped in with another 93 assists in his 304 games in Oilers silks. While the native of Winkler, Manitoba has scored just one power play goal in a Kings uniform, he tallied thirty-three times on the man advantage during his three plus seasons in Oil Country.

Can you say night and day?

There are those who will try and sell you on Kevin Lowe's decision to sign Penner to an RFA sheet prior to the start of the 2007-08 campaign as a huge mistake and those people would be dead wrong. While he wasn't always a model citizen during his time in Edmonton, all the guy did was produce numbers. Which if I am not mistaken, was the whole purpose of bringing him on board. So where was the problem?

On a team that is clearly short a top nine forward, having Penner slot in alongside Ryan Nugent-Hopkins and Jordan Eberle. could be exactly what this club needs for the remainder of the 2013 season. With Taylor Hall comfortably slotted on a line with Shawn Horcoff and Ales Hemsky, playing those "so-called" tough minutes and Sam Gagner doing his thing with Magnus Paajarvi and Nail Yakupov, the line that that isn't carrying its weight is the Nugent-Hopkins trio.

In their defence, the hole on the left side is massive and one that Krueger has unsuccessfully tried filling with the likes of Teemu Hartikainen and Ryan Jones in recent outings. Penner would not only fill that role but also add some much needed size into the top nine and give Edmonton another net presence on the man advantage.

The other bonus with bringing him back into the mix, Penner had success with the vast majority of players on the Oilers top three lines, during his previous stint in town. Giving the rookie coach a few extra options at his disposal, should the need arise to do some line juggling.

In all honesty, the move would likely rejuvenate the former Anaheim Ducks standout, who tends to take his game to another level in big games. Would he be the answer beyond this season? Probably not, as one would expect the veteran winger to look at re-signing with the Ducks, at a severely reduced rate, and returning to where it all began.

In the short term, he is exactly what this team needs, both on and off the ice.

The four-time twenty goal man is known for his dry sense of humour and was one of the most popular players within the Oilers dressing room, during his time in Edmonton. From Tambellini's standpoint, the risk would be so negligible, that he would be foolish to not serious contemplate pulling off such a move.

With rumours circulating that head coach Darryl Sutter is doing everything plausible to convince Kings management to add Calgary Flames captain Jarome Iginla to his lineup, one would think Los Angeles would be looking to move some salary. L.A. is neither a cap team nor an organization that needs to make room under the salary cap, to improve their roster at the deadline.

Having said that, adding what's left of Iginla's $7 million dollar contract to the payroll for the rest of the year, will almost certainly mean General Manager Dean Lombardi will be instructed to move some "dead weight".

Enter Dustin Penner.

Could the situation possibly be any better from an Edmonton Oilers standpoint? While Lombardi will look to shed salary, Penner's previous disappearing act will likely keep most teams away from jumping at the opportunity of acquiring a potential top six winger. The two teams that probably feel they can get the most out of this player, would be Anaheim and Edmonton...and he will most certainly not be moved to the Ducks via a trade with the Kings.

It is a win-win for all parties involved, with the Edmonton sacrificing nothing more than some cold hard cash. Obviously, not as small of an issue should your name be Daryl Katz but at the end of the day, it could turn out to be money well spent and possibly help get the organization and their playoff starved fans back into the post-season.