Oilers ink Smid to a favourable four year extension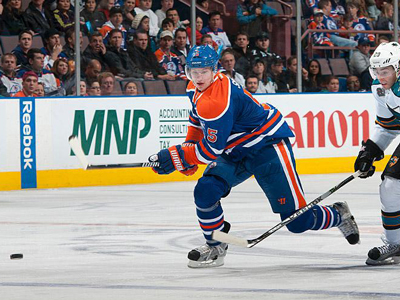 Edmonton - April 1, 2013 - In the category of what took so damn long, the Edmonton Oilers finally agreed to a contract extension with defenceman Ladislav Smid on Monday morning.

The deal will see the twenty-seven year old blueliner earn $3.5 million a season, over each of the next four years.

While there were rumours in recent weeks suggesting that General Manager Steve Tambellini had entertained thoughts of possibly moving the rugged defenceman at the NHL Trade Deadline, the plan had never changed. Signing Smid was a priority.

Obviously, clubs would like to sign their players to as low of a cap number as possible but in this case, the Oilers got themselves one hell of deal. There are those that think teams should not pay stay-at-home defenceman top dollar but considering what this summer's free agent market was looking like, Smid was headed for a hefty pay increase on his current $2.25 million salary.

Outside of New York Islanders defenceman Mark Streit, the tough as nails defenceman was arguably the next biggest UFA available and the only one heading into the prime years of his career. When you take that into account and realize that NHL General Managers can't help but spend like drunken sailors each and every off-season, it is hard to criticize anything about this deal.

The former Anaheim Ducks first round pick made it widely known that he wished to remain in Edmonton and would be willing to take less than what he could command on the open market, should he get the term he was looking for. Make no mistake, Smid wanted a five year extension but at the end of the day, he relented and settled on the four year term.

Frankly, Tambellini could not have asked for these negotiations to have gone any better. He was not only able to retain an important piece of the puzzle for the organization, both on and off the ice, but managed to do so at a very reasonable number.


8,399 Stories & Growing Daily...
To date OurHometown.ca has posted a total of 8,399 stories! News, sports, hockey, lifestyle, opinion and more!

Be sure to check out our Contributors and Columnists archives!
Click on Photo or Story Title for more info
OurHometown.ca News Database Last Updated:
Dec. 31, 2021 @ 8:03 AM EST