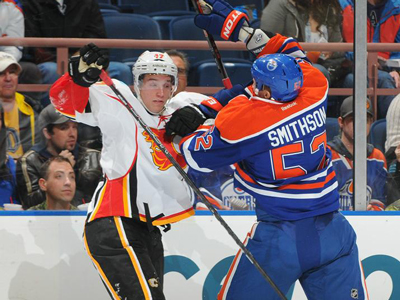 Edmonton - April 14, 2013 - As if losing four consecutive games that essentially bumped them out of the Western Conference playoff race wasn't enough, the Edmonton Oilers reached a new low on Saturday night, falling 4-1 to a heavily depleted Calgary Flames side.

Two points nights from Tim Jackman and TJ Brodie proved to be too much for the Oilers to overcome, against a Flames roster which featured five AHL regulars in their lineup.

For the fifth consecutive outing, Edmonton's top line of Jordan Eberle, Taylor Hall and Ryan Nugent-Hopkins were held off the scoresheet and not surprisingly, all five of those games have wound up being losses.

Right from the drop of the puck, it was the same old song and dance for Ralph Krueger's crew.

After slumbering through the opening twenty-six seconds and put themselves behind the eight-ball, courtesy of just a terrible play by Jeff Petry and a perfectly placed snap shot by Mikael Backlund. To their credit, the Oilers would tie things up just over a minute later, as Lennart Petrell chipped home his third on the campaign.

Nail Yaupov appeared to give Edmonton their first lead of the night, less than five minutes later, directing home a nifty little feed from Sam Gagner. Unfortunately for the Oilers and the rookie winger, the goal was incorrectly waived off, after being reviewed by the War Room in Toronto. It was a tough break for the homeside but not one that excused what was to follow over the final fifty-five minutes.

From the 13:46 mark of period one to the 5:46 mark of the middle frame, Edmonton proceeded to take four consecutive penalties, which completely turned the tide and saw the Flames jump out to a two goal lead. Those early second period markers came off the sticks of defenceman Dennis Wideman and Sven Baertschi, the latter of which was a weak goal on the part of netminder Nikolai Khabibulin, took the life out of Rexall Place and left the Oilers bench in a state of shock.

Through forty minutes, it did not look good for Mr. Krueger and his disciples but they still had hope, as they were staring at a full two minute power play heading into period three. Calgary was ripe for the picking but Edmonton created little and could not take advantage. Eight minutes later, Max Reinhart would score his first career NHL goal, courtesy of an absolutely dreadful giveaway from Justin Schultz, to make it a 4-1 final.

During their post-game interviews, nearly every player referred to the team's performance as "embarrassing" and "simply unacceptable". Obviously a fair assessment on their part but one that is very concerning.

Not only did they lose to a badly undermanned Flames group but they did so showing next to no emotion and with a tinge of indifference. Concerning indeed.

With the loss, Edmonton remains twelfth place in the West but have now fallen six points back of the playoff cut-line...with all of seven games to play. Even if the Oilers were to run the table the rest of the way, they would finish the year with fifty-three points, which would likely still not be enough to get them into post-season play.

In just ten short days, Edmonton have seen themselves go from the high point of thrashing their provincial rivals 8-2 on Trade Deadline Day and holding down the eighth and final playoff spot in the Western Conference, to having now dropped five straight and looking as disorganized and uninterested as a group of individuals good possibly look.