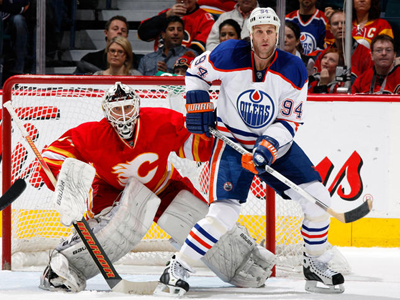 Edmonton - April 16, 2013 - Heading into the upcoming off-season, the names of those players who seem unlikely to return to the Edmonton Oilers in 2013-14 seem fairly obvious.

That list would most certainly include Eric Belanger, Ben Eager, Darcy Hordichuk, Ryan Jones, Nikolai Khabibulin, Jerrad Smithson, Andy Sutton, Ryan Whitney and possibly all three of Mark Fistric, Theo Peckham and Lennart Petrell.

That is a whole lot of turnover and doesn't even take into consideration the likelihood of at least one of Sam Gagner or Ales Hemsky being sent packing in some sort of deal. However, there is one obvious name missing from that list…Ryan Smyth.

No one could ever question the heart and the want to win that burns inside #94 but at some point, you have to turn the page. Unfortunately for Smyth, he brings next to nothing on a nightly basis and looks as though he is skating around the rink with twenty-five pound cement blocks tied to his skates.

Outside of Gagner and Hemsky, the names listed above can very easily be taken care of. Compliance buyouts will take care of two of those players, see Belanger and Eager, and simply standing pat and allowing the others to walk away, will take care of the rest. The same can't be said when it comes to the man the Oilers selected with the sixth overall pick back in 1994.

After handing the veteran winger a two year extension for reasons known only to those within the organization, General Manager Craig MacTavish has a potential PR nightmare on his hands. Smyth has had himself a very nice NHL career but should never be confused with a great player. However, in good ol' Oil Country, he is far from the run-of-the-mill player and one of the most popular players in team history.

When you think of the post dynasty-era Edmonton Oilers, you think of one player.

With a year remaining on his two year $2.25 million deal and the NHL salary cap taking a major nose-dive come 2013-14, I honestly cannot think of a single team that would be interested in acquiring the thirty-seven year old.

After just a ridiculous start to the 2011-12 campaign, Smyth has scored just six goals and chipped in eighteen assists over his last eighty-four games. This coming from a player who still averages over fifteen minutes a night.

As much as some go on about how bad the regular cast of fourth line characters have been this season, few have jumped on Smyth, who has arguably done no better than a guy like Petrell…despite having far more opportunity. That's not to suggest the Finnish winger should receive more ice time but rather to point out how much of a non-factor Captain Canada has become.

With the situation being what it is, the organization has two options. One, they sit down the former face of their franchise and see if he would seriously consider retiring. Offer him a job within the organization and see if he bites. Two, they put him on waivers and if there are no takers, he sits around as the thirteenth forward.

The other option is to send him to the minors, should he clear waivers, but considering the manner in which Smyth originally left town back in 2007, that will not and frankly should not happen. The guy has bled Orange and Blue throughout his eighteen year career but at some point, it has to be about the well-being of the organization.

If Ryan doesn't mind being a spare part for his last kick at the can, than they should have him stick around as a thirteenth forward. Having said that, can anyone honestly see Ryan Smyth being ok with such a role? I surely can't and who could blame. He is simply not wired that way and in his defence, that's what makes him such a special player to so many fans.

Smyth still has the want and will to win burning inside him but that can only take you so far. The tank is empty and the time has come to call it a career...and what a career it has been.