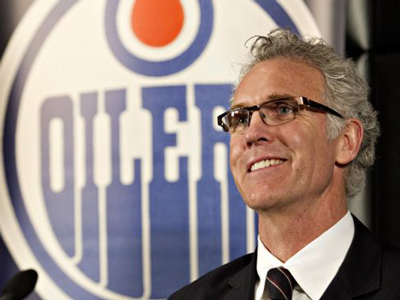 Edmonton - April 19, 2013 - The moment Craig MacTavish was named General Manager of the Edmonton Oilers, you knew the time for patience was over.

To go out and bring back the former head coach who left the club following an absolutely dreadful 2009-2010 campaign, as the next face of this franchise's management team, Kevin Lowe and company were opening themselves up to a whole lot of questions.

As if the pressure of missing the playoffs for what will be a seventh consecutive season wasn't enough, this move all but ensures Edmonton can't let that number grow to eight. A challenge which MacTavish appears to be more than ready to deal with.

In fact, the "we need to do some bold things" statement, from his Monday morning press conference, all but guarantees him major backlash...should it not workout in the end.

Make no mistake, this team has a number of holes they need to fill throughout their roster but as MacT and company reminded us during that presser, they have the toughest pieces to find already in place. With a forward group which features the likes of Jordan Eberle, Taylor Hall, Ryan Nugent-Hopkins and Nail Yakupov, as well as a blueline that already includes Jeff Petry and Justin Schultz, with youngster Oscar Klefbom in the wings, the high-end talent is clearly in place.

MacTavish's job is actually quite simple. He needs to go out and find those complimentary pieces, that will once again make Edmonton a perennial playoff team and an eventual Stanley Cup contender. With the third year of the re-build on the verge of going into the books, the time to turn into that team starts next season. No more excuses. At this point, it's all about wins..nothing else matters.

Heading into the upcoming off-season, there are four players which you could almost guarantee this club taking a run at, should they be made available via free agency or trade. Those four names are very familiar to Oilers fans: David Clarkson, Ryan Clowe, Nathan Horton and Chris Stewart.

In all honesty, the only one I could possibly see being available on the first day of free agency would be Horton, injury history and all, with Stewart maybe being up for grabs in trade from the cash strapped St.Louis Blues. That being said, I fully expect all four of those players to remain with their current teams for the 2013-14 campaign.

Meaning MacTavish will need to look elsewhere in hopes of improving this club's mix within the forward ranks. In my mind, Phoenix Coyotes centre Martin Hanzal would be the perfect fit as Edmonton's second line centre but apparently he is almost an untouchable in the minds of the Coyotes front office. Hard to blame them, as hulking two way centres don't typically grow on tress.

With that being case, the players listed below would all be welcome additions to the Oilers roster and likely attainable at a reasonable cost.

Brenden Morrow - The thirty-four year old is headed for unrestricted free agency and coming off a deal in which he earned $4.1 million a season. With the cap taking a massive dip in 2013-14, the veteran winger will have more than a few offers come his way but the term and dollar value may not be what he was hoping for. The former Dallas Stars first round pick is no longer the player he once was but still has enough left in the tank to help an Oilers side that are dying to add the physical style of game and leadership, he brings to the table on a nightly basis.

Morrow has always played with an edge and has proven to be still capable of putting up points during his current stint with the Pittsburgh Penguins. He is far from a long term fit but is certainly one of those transitional players, who would desperately help this club fill a hole on their second line and be more than comfortable playing on the third line...should the need arise.

The safe bit would be on Morrow looking for a three year extension, something Edmonton would be hesitant to do but they do have something most teams do not have, cap space. MacTavish would not only have the capability of offering a very competitive two year pact to the seven-time twenty goal man but could also dangle a year deal at a much higher number, that would not financially handcuff them moving forward.

Eric Nystrom - Kudos to TSN's Ryan Rishaug, for first bringing up his name a few weeks back during one of his many weekly radio spots, as a possible target for the Oilers. Unlike his father, Eric has never displayed the same scoring touch as the four time Stanley Cup winner but he most certainly has the old man's drive and ability to make life miserable for the opposition. Nystrom plays a solid two-way game and has made a career of driving opponents crazy with his physical style.

On a team which has received next to no offensive contribution over the last two seasons, from the vast majority of their bottom six, the thirty year old's potential of scoring ten-fifteen goals would be a welcome addition. Never one to back down from a challenge, the former Calgary Flames draft pick has always been willing to drop the mitts when necessary and can usually be found in the middle of almost any on ice scrum. He can play either wing, is capable of playing down middle and can kill penalties. Coming off a three year $1.4 million deal he signed as a member of the Minnesota Wild, one would think he would be expecting a similar type of number through free agency. Perfect bottom six forward.

Viktor Stalberg - A favourite target of the one and only Allan Mitchell over at Lowetide.ca, Stalberg would be a wonderful get for the Oilers new GM and would definitely fill the void of a second line winger with size. While the former sixth round pick of the Toronto Maple Leafs is a fairly big man at 6'3", he doesn't always use his frame to his advantage. That being said, the twenty-seven year old can flat out fly, is entering his prime years and has shown the ability to play with top end talent during his time with the Chicago Blackhawks.

Stalberg likely sees the writing on the wall in the Windy City and realizes he will be nothing more than spare part moving forward, albeit a very effective part. Whereas in Edmonton, he would have a spot inside the top six and have the opportunity of improving on his career high of twenty-two goals. On the downside of the equation, he would be going from a perennial Stanley Cup contender, to a team which is hoping to to get there.

After making all of $875,00 in each of the last three seasons, the talented Swede is do for a hefty raise, something which the Blackhawks would probably not have a huge appetite for. One would think the opportunity in Edmonton could be high on his destination list and the fact they have a number of Swedish players already in the mix or coming, in Klefbom, Anton Lander and Magnus Paajarvi, surely can't hurt.

Brandon Yip - Like Nystrom, Yip has all the tools this organization is looking for from a player to add into their bottom six. The former eighth round pick of the Colorado Avalanche skates very well, is a high energy player and is defensively responsible. He would probably cost them somewhere in the neighbourhood of $700,000-$800,000 and allow head coach Ralph Krueger some flexibility within his lineup.

A bottom six that could potentially revolve around Teemu Hartikainen, Shawn Horcoff, Lander, Nystrom, Paajarvi and Yip, with Mike Brown as the thirteenth forward, would be a nice mix of physicality, skill and speed. Something which has been sorely lacking, from many of those who have held these positions for the last couple of seasons.

As far as the top six go, Eberle, Hall, RNH and Yakupov are obvious locks, leaving two potential spots up for grabs. In my mind, Ales Hemsky has played his last game as a member of the Edmonton Oilers and Sam Gagner is a fifty-fifty proposition. Should number #89 remain part of the plan moving forward, either one of Morrow or Stalberg would be great additions.

However, should Mr.MacTavish decide to move the former sixth overall pick to upgrade his backend, hello Keith Yandle, they would need a plan in place for a second line centre. Outside of the aforementioned Hanzal, one would think Steve Ott would be a player this organization could and probably would target.

The diminutive centre heads into 2013-14 in the final year of a four year pact, which has paid him $2.95 million a season. The chances of Ott re-signing in Buffalo are highly unlikely, meaning the Sabres would entertain possible offers for the native of Summerside, P.E.I.

While he may not be an upgrade on Gagner from a size standpoint, he brings a ton to the table. The former first round pick of the Stars, is fantastic in the faceoff circle, a solid penalty killer and has shown the ability to put points on the board when playing with talented linemates. Ott can play all three forward positions and is arguably the most productive agitating forward in the entire National Hockey League.

Craig MacTavish may have his work cut out for him in his first kick at the can as an NHL General Manager but he will definitely have more than a few options to improve what has become a somewhat stagnant roster.