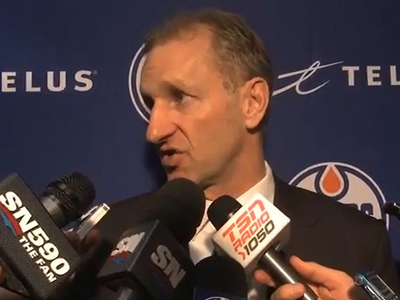 Edmonton - April 26, 2013 - Saying the Edmonton Oilers have hit the skids down stretch, would be putting it nicely.

Since grabbing hold of the eighth and final playoff spot in the Western Conference back on April 3rd, this team has become completely unglued.

They have posted a staggering 1-9 mark over their last ten and once again find themselves battling for the right to select first at this summer's NHL Entry Draft.

There is no questioning the fact this team needs a major face lift prior to the start of the 2013-14 campaign but to be perfectly honest, a change behind the bench should not be one of them.

While Ralph Krueger has made his fair share of blunders during his first year behind an NHL bench, I have yet to see the coach that has gone an entire season without being questioned by the masses on a regular basis.

It sort of comes with the territory.

Unfortunately for Krueger, the Oilers most recent stumble seems to have erased much of the good which was accomplished during this shortened NHL season. Have things gone off the rails over the last three weeks? Obviously but this team did show fight throughout the first ten weeks of the season, getting themselves back into the playoff race on more than one occasion.

As bad as this team has been of late, they were just as good leading up to their eventual plummet down the standings. Much of that new found will to compete and fight to get back into the playoff picture, needs to be given to the man behind the Oilers bench.

For the first time in ages, this team showed something. They repeatedly picked themselves up off the mat, fought for one another and climbed their way back up the standings.

The goal heading into this season, was to get this team into a position to play some meaningful games for the first time in a very long time. Krueger accomplished exactly that, with a roster that has more than its share of deficiencies.

Problem was this crew wasn't quite ready for prime time.

So instead of heaping praise on the first year coach for a job well done, the vast majority of fans and media are now asking if he is still the right man for the job. While this team quitting down the stretch isn't exactly a good sign, they haven't been god awful in every game since pounding the Calgary Flames 8-2, on Trade Deadline Day.

This team came out and competed over their next three games but were soundly beat by three superior hockey clubs. The effort and will to win was there but they simply didn't have the horses to compete at crunch time. It was not a coaching issue nor a matter of players quitting. They simply were not good enough as a collective unit, to compete with the Vancouver Canucks, Los Angeles Kings and Anaheim Ducks.

That simple.

Those three losses took the life out of this group and after a so-so outing against the Phoenix Coyotes and an embarrassing effort against the Calgary Flames, it was all but over. All that fight to get back into the race, was taken away from them in just over a week. A tough pill to swallow, for everyone involved.

The players knew it and some of them decided to take the easy way out, checking out somewhere between the loss against the Ducks and the complete collapse versus the Flames.

Not exactly the scenario you want to see unfold as an organization but to be completely frank, this stretch answered many a question for Craig MacTavish, Scott Howson and Kevin Lowe.

While it is painfully obvious this team has given up and is playing out the string, does the fact Krueger refuses to rip his players publicly, make him the wrong man for the job? Some feel he doesn't show enough fire but where does it say every coach needs to turn into John Tortorella?

In my mind, Ralph is more than aware of the hand he was dealt and realizes the problem pieces will not be returning in 2013-14.

With that being the case, what good does ripping your players in this sort of situation accomplish? More often than not, absolutely nothing. I have no doubt the fifty-three year old bench boss is far more frustrated than any fan or media member could ever imagine to be, watching what has unfolded in front of his very own eyes.

Make no mistake, Krueger will let each and every player know exactly what he thought of their overall performance during their year end exit meetings and what is expected from them moving forward. You call out your players compete level behind close doors, not through the media.

Luckily for this organization, Ralph is a guy who recognizes this and has decided to use his better judgement.

There is no question these players are in capable hands moving forward. Now it is up to MacTavish and company to find those missing pieces, which will allow this group to take that next step towards finally becoming a competitive hockey team for an entire season.

Ralph Krueger may or may not be the answer but he should be given a shot at getting the job done with a full deck of cards. Allow him that opportunity to hold all his players accountable...something which he simply can not do, with the roster structured as it currently is.

By keeping him around, it sends a very clear message to the players who is running the show.

Bringing in yet another head coach, would be sending the wrong message. There needs to be some sort of accountability within the Oilers dressing room and giving them an out on an almost annual basis, is not the answer. If the expectations are for these players to produce results as a group, they need some form of stability in place.

Should MacT go out and address their backend, lack of size and veteran leadereship...and we continue to see more of the same to the start the 2013-14 season, than show Ralph the door during the season and bring in the hard-ass so many are calling for.